Professional Microsoft SQL Server 2008 Programming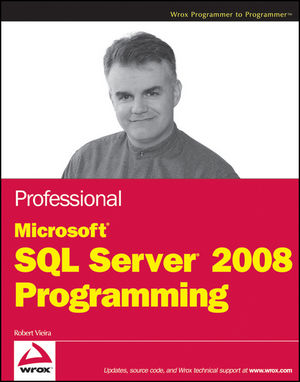 Professional Microsoft SQL Server 2008 Programming
ISBN: 978-0-470-25702-9
Apr 2009
936 pages
Description
This book is written for SQL Server 2008. However, it does maintain roots going back a few versions and looks out for backward compatibility issues with SQL Server 2005 and SQL Server 2000. These versions are old enough that there is little to no time spent on them except in passing.
The book is oriented around developing on SQL server. Most of the concepts are agnostic to what client language you use although the examples that leverage a client language general do so in C#. For those who are migrating from early versions of SQL Server, some "gotchas" that exist any time a product has versions are discussed to the extent that they seem to be a genuinely relevant issue.
This book assumes that you have some experience with SQL Server and are at an intermediate to advanced level. The orientation of the book is highly developer focused. While there is a quick reference-oriented appendix, there is very little coverage given to beginner level topics. It is assumed that you already have experience with data manipulation language (DML) statements and know the basics of the mainstream SQL Server objects (views, stored procedures, user defined functions, etc.). If you would like to brush up on your knowledge before diving into this book, the author recommends reading Beginning SQL Server 2008 Programming first. There is very little overlap between the Beginning and Professional books and they are designed to work as a pair.
Introduction.
Chapter 1: Being Objective: Re-Examining Objects in SQL Server.
Chapter 2: Tool Time.
Chapter 3: Asking a Better Question: Advanced Queries.
Chapter 4: XML Integration.
Chapter 5: Daring to Design.
Chapter 6: Core Storage and Index Structure.
Chapter 7: More Advanced Index Structures.
Chapter 8: Views.
Chapter 9: Scripts and Batches.
Chapter 10: Advanced Programmability.
Chapter 11: Transactions and Locks.
Chapter 12: Triggers.
Chapter 13: SQL Cursors.
Chapter 14: Reporting Services.
Chapter 15: Buying in Bulk: The Bulk Copy Program (BCP) and Other BasicBulkOperations.
Chapter 16: Getting Integrated.
Chapter 17: Replication.
Chapter 18: Looking at Things in Full: Full-Text Search.
Chapter 19: Feeling Security.
Chapter 20: A Grand Performance: Designing a Database That Performs Well.
Chapter 21: What Comes After: Forensic Performance Tuning.
Chapter 22: Administration.
Chapter 23: SMO: SQLManagement Objects.
Chapter 24: Data Warehousing.
Chapter 25: BeingWell Connected.
Appendix A: System Functions.
Appendix B: Going Meta: Getting Data About Your Data.
Appendix C: The Basics.
Index.
Chapter
Page
Details
Date
Print Run
25
Error in Text
The Chapter 25 summary tells readers to go to p2p.wrox.com to download the bonus chapter.

Readers should go to www.wrox.com instead, locate the book by title, and click the Download Code link.
3/24/10

---