Professional Mobile Web Development with WordPress, Joomla! and Drupal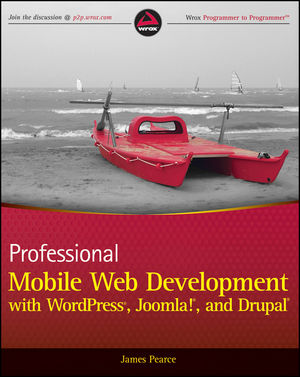 Description
How to develop powerful mobile Web sites using popular content management systems (CMS)
Mobile is the hottest thing going—and developing content for mobile devices and browsers is even hotter than that.  This book is your guide to it all—how to design, build, and deploy sites, blogs and services that will work brilliantly for mobile users. You'll learn about the state-of-the-art of mobile web development, the tools available to use, and the best practices for creating compelling mobile user interfaces. Then, using the most popular content management systems, WordPress, Joomla!, and Drupal, you'll learn how to building world-class mobile web sites from existing platforms and content..  The book walks you through each platform, including how to use third-party plug-ins and themes, explains the strategies for writing your own logic, how to switch between mobile and desktop, and much more.
Provides a technical review of the mobile landscape and acquaints you with  a range of mobile devices and networks
Covers topics common to all platforms, including site topologies, switching between mobile and desktop, common user interface patterns, and more
Walks you through each content management platform—WordPress, Joomla!, and Drupal—first focusing on standard plug-ins and themes and then exploring advanced techniques for writing your own themes or logic
Explains the best practices for testing, deploying, and integrating a mobile web site
Also explores analytics, m-commerce, and SEO techniques for mobile
Get ahead of the the mobile web development curve with this professional and in-depth reference guide!
INTRODUCTION.
PART I: THE WORLD OF THE MOBILE WEB.
CHAPTER 1: INTRODUCING THE MOBILE WEB.
CHAPTER 2: A TECHNICAL OVERVIEW OF THE MOBILE WEB.
CHAPTER 3: KEEPING ABREAST OF DEVELOPMENTS.
CHAPTER 4: MAJOR MOBILE WEB BROWSERS.
CHAPTER 5: THE MOBILE TOOLBOX.
PART II: GENERAL MOBILE TECHNIQUES.
CHAPTER 6: THE ANATOMY OF A MOBILE SITE.
CHAPTER 7: SWITCHING BETWEEN MOBILE AND DESKTOP BROWSERS.
CHAPTER 8: CMS UI PATTERNS FOR MOBILE.
CHAPTER 9: DESIGNING FOR MOBILE DEVICES.
CHAPTER 10: MOBILE TEMPLATES AND LIBRARIES.
PART III: MAJOR CMS PLATFORMS.
CHAPTER 11: BASIC WORDPRESS MOBILIZATION 225
CHAPTER 12: ADVANCED WORDPRESS MOBILIZATION.
CHAPTER 13: BASIC DRUPAL MOBILIZATION.
CHAPTER 14: ADVANCED DRUPAL MOBILIZATION.
CHAPTER 15: BASIC JOOMLA! MOBILIZATION.
CHAPTER 16: ADVANCED JOOMLA! MOBILIZATION.
PART IV: ENHANCING AND LAUNCHING YOUR SITE.
CHAPTER 17: JAVASCRIPT FRAMEWORKS.
CHAPTER 18: TESTING AND DEBUGGING MOBILE SITES.
CHAPTER 19: FINAL TOUCHES.
PART V: REFERENCES.
Appendix A: Further Reading.
Appendix B: Useful Sites.
Glossary.
INDEX.