Professional Practice in Health, Education and the Creative Arts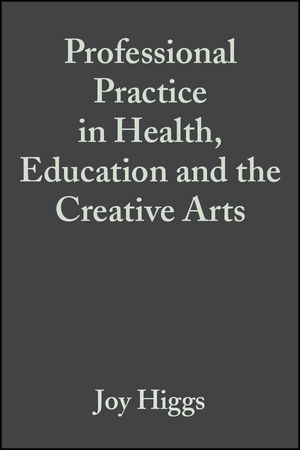 Professional Practice in Health, Education and the Creative Arts
ISBN: 978-0-632-05933-1 August 2001 Wiley-Blackwell 312 Pages
Description
Society is rapidly changing its expectations of professionals in all arenas. In this book we focus on changing patterns of professional practice in health, education and the creative arts. In each of these areas professional practice care is undergoing major reform in a complex and rapidly changing environment.
This multi-authored text explores professional practice in four key dimensions: doing, knowing, being and becoming. These concepts have been chosen to represent professional practice as much more than applying learned knowledge in practice situations. The authors present professional practice as a lived and dynamic experience as well as a process, a service for (and with) others, and a way of being and behaving. The text explores the essential unity of knowledge and practice, through discourse, narrative, imagery and critical debate.
This is a book for all those seeking to learn and to improve practice.
Table of contents
List of Contributors.
Preface.
Acknowledgements.
Section 1: Introduction: Framing professional practice; Knowing and doing in context; Doing, knowing, being and becoming: The nature of professional practice; Our collaborative inquiry.
.
Section 2: Dimensions of professional practice: Practising without certainty: Providing health care in an uncertain world; The meaning(s) of uncertainty in treatment decision making; Finding the fifth player: Artistry in professional practice; Embodying knowledges: Challenging the theory/practice divide; Exploring relationships in health care practice; Technology and the depersonalisation of knowledge and practice; The research-sensitive practitioner; The practice-sensitive researcher.
.
Section 3: Journeying on professional practice: Using autobiographical narrative and reflection to link personal and professional domains; Students and educators learning within relationships; Becoming in professional practice: An exemplar; Transforming practice; Articulating practice; Whether the twain shall meet: Knowledge and practice in the education of health and human service professionals; Parallel journeys in professional practice; Developing creative arts expertise; Weaving the body, the creative unconscious, imagination and the arts into practice development.
.
Section 4 Reflections: Professional practice: Walking alone with others; Towards professional artisty and creativity in practice.
Index.
Reviews
"A stimulating and thought-provoking book, one to savour for its ideas and to enjoy for its artistry...Occupational therapists should try it"

British Journal of Occupational Therapy
"The book has a unique contribution to make that will complement existing texts."

"Tables and figures are generally clear and complementary. Overall, presentation is excellent. The book is attractive, well laid out and well illustrated."

"It will be an excellent resource for libraries and departments as well as postgraduates with a specific interest in professional practice and development."
Physiotherapy Journal
What's New
* encourages reflective, visionary, innovative and creative practice
* removes practice boundaries
* provides new perspectives for the analysis of professional practice as well as practical strategies for professional development
* includes internationally recognised authors from the fields of education, health sciences and the creative arts
* reflects the cutting edge of thinking on professional practice