Professional SQL Server® 2005 Performance Tuning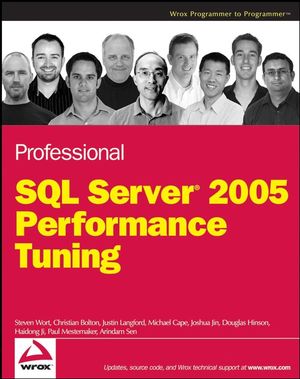 Description
Written by a team of expert SQL users, this comprehensive resource approaches performance tuning from a new perspective by showing you a methodical scientific approach to diagnose performance problems. The book first walks you through how to discover bottlenecks when something is wrong and you'll then learn how to identify and remove the problems that are causing poor performance. You'll discover preventive measures you can take to try to avoid a performance problem entirely and you'll learn how to achieve better performance.
Acknowledgments.
Introduction.
Part I: Finding Bottlenecks when Something's Wrong.
Chapter 1: Performance Tuning.
Chapter 2: Monitoring Server Resources with System Monitor.
Chapter 3: Monitoring SQL Server Resources with System Monitor.
Chapter 4: SQL ServerWait Types.
Chapter 5: Finding Problem Queries with SQL Profiler.
Part II: Removing Bottlenecks with Tuning.
Chapter 6: Choosing and Configuring Hardware.
Chapter 7: Tuning SQL Server Configuration.
Chapter 8: Tuning the Schema.
Chapter 9: Tuning T-SQL.
Part III: Preventative Measures and Baselining Performance with Tools.
Chapter 10: Capturing, Measuring, and Replaying a Workload Using SQL Profiler.
Chapter 11: Tuning Indexes.
Chapter 12: How Fast and Robust Is Your Storage?
Chapter 13: SQL Server 2005 Performance Dashboard Reports.
Part IV: Roadmap to Server Performance.
Chapter 14: Best Practices for Designing for Performance from the Start.
Chapter 15: Successful Deployment Strategies.
Index.