Professional SQL Server 2005 CLR Programming: with Stored Procedures, Functions, Triggers, Aggregates, and Types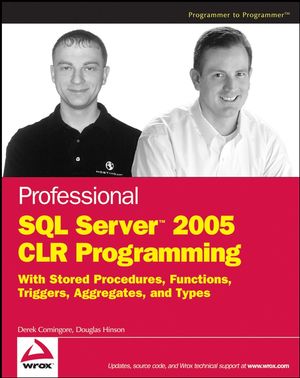 Description
SQL Server 2005 offers the capability to write code in a .NET language that can be compiled and run inside SQL Server. CLR Integration, or SQL CLR, lets you create stored procedures, user-defined types, triggers, table valued functions, and aggregates using a .NET managed language. You can read and write to resources outside of SQL Server and enjoy a tighter integration with XML, web services, and simple file and logging capabilities.

Here's the reference you'll want on your desk as you develop SQL CLR solutions. It helps you decide whether to use SQL CLR, how to lock down security, and learn from real examples. If you want to develop stored procedures or other objects in .NET for SQL Server 2005, this book offers exactly what you need.

What you will learn from this book
The concepts and architecture of SQL CLR
Uses of .NET namespaces in SQL Server programming tasks
How to develop and benchmark routines in T-SQL and .NET to determine when CLR-based solutions are advantageous
How to replace extended stored procedures using SQL CLR stored procedures
How to use SQL CLR objects in external applications
How to restrict and secure SQL CLR object capabilities
Processes and procedures for deploying SQL CLR objects
Who this book is for
This book is for developers and architects who are familiar with .NET concepts as well as DBAs who, although developers in their own right, may be slightly less up to date on .NET. A solid grounding in T-SQL is necessary.
Wrox Professional guides are planned and written by working programmers to meet the real-world needs of programmers, developers, and IT professionals. Focused and relevant, they address the issues technology professionals face every day. They provide examples, practical solutions, and expert education in new technologies, all designed to help programmers do a better job.
Acknowledgments.
Introduction.
Chapter 1: Introducing SQL CLR.
Chapter 2: Your First CLR Stored Procedure.
Chapter 3: SQL CLR Structure and Common Tasks.
Chapter 4: Creating SQL CLR Objects.
Chapter 5: Comparing T-SQL with Managed Code.
Chapter 6: Replacing Extended Stored Procedures, Functions, and Other T-SQL Objects.
Chapter 7: The .NET Framework's Base Class Library.
Chapter 8: Using SQL CLR Stored Procedures in Your Applications.
Chapter 9: Handling Errors in CLR Stored Procedures.
Chapter 10: CLR Administration and Security.
Chapter 11: Case Study.
Index.
Code Downloads

Download Code Files for Chapter 2

Download Code Files for All Chapters

These downloads are stored in a compressed .rar format. You may need to download a free trial version of WinRAR, which has the capability to uncompress .rar and .zip files.
Download
Code Downloads

Download
Download Code Files for Chapter 2

Download
Download Code Files for Chapter 3

Download
Download Code Files for Chapter 4

Download
Download Code Files for Chapter 5

Download
Download Code Files for Chapter 6

Download
Download Code Files for Chapter 7

Download
Download Code Files for Chapter 8

Download
Download Code Files for Chapter 9

Download
Download Code Files for Chapter 10

Download
Download Code Files for Chapter 11

Download
Chapter
Page
Details
Date
Print Run
1
8
Error in Text
For "The CLR Security Model":

"that what"

should be:

"than what"
10/17/2007

---