Professional SQL Server 2005 Integration Services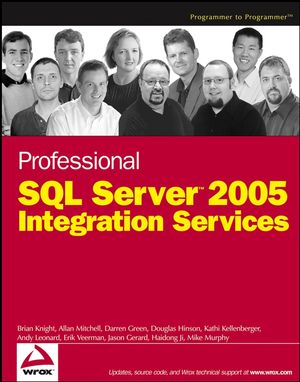 Description
This book will help you get past the initial learning curve quickly so that you can get started using SSIS to transform data, create a workflow, or maintain your SQL Server. Offering you hands-on guidance, you'll learn a new world of integration possibilities and be able to move away from scripting complex logic to programming tasks using a full-featured language.

What you will learn from this book
Ways to quickly move and transform data
How to configure every aspect of SSIS
How to interface SSIS with web services and XML
Techniques to scale the SSIS and make it more reliable
How to migrate DTS packages to SSIS
How to create your own custom tasks and user interfaces
How to create an application that interfaces with SSIS to manage the environment
A detailed usable case study for a complete ETL solution
Who this book is for
This book is for developers, DBAs, and users who are looking to program custom code in all of the .NET languages. It is expected that you know the basics of how to query the SQL Server and have some fundamental programming skills.
Wrox Professional guides are planned and written by working programmers to meet the real-world needs of programmers, developers, and IT professionals. Focused and relevant, they address the issues technology professionals face every day. They provide examples, practical solutions, and expert education in new technologies, all designed to help programmers do a better job.
Acknowledgments.
Foreword.
Introduction.
Who This Book Is For.
How This Book Is Structured.
What You Need to Use This Book.
Conventions.
Source Code.
Errata.
p2p.wrox.com.
Chapter 1: Welcome to SQL Server Integration Services.
Chapter 2: The SSIS Tools.
Chapter 3: SSIS Tasks.
Chapter 4: Containers and Data Flow.
Chapter 5: Creating an End-to-End Package.
Chapter 6: Advanced Tasks and Transforms.
Chapter 7: Scripting in SSIS.
Chapter 8: Accessing Heterogeneous Data.
Chapter 9: Reliability and Scalability.
Chapter 10: Understanding the Integration Services Engine.
Chapter 11: Applying the Integration Services Engine.
Chapter 12: DTS 2000 Migration and Metadata Management.
Chapter 13: Error and Event Handling.
Chapter 14: Programming and Extending SSIS.
Chapter 15: Adding a User Interface to Your Component.
Chapter 16: External Management and WMI Task Implementation.
Chapter 17: Using SSIS with External Applications.
Chapter 18: SSIS Software Development Life Cycle.
Chapter 19: Case Study: A Programmatic Example.
Index.
Code Downloads
Code downloads for this title are available here.
Code Downloads

Code Downloads
Code downloads for this title are available here.
Download
Code Downloads

Download
Download Code for Chapter 5
The code examples for this title are stored in a ZIP archive. To open it, you will need a computer with software capable of opening ZIP files. If you do not already have this capability, you can download a free trial of WinZip.
Download
Download Code for Chapter 6
The code examples for this title are stored in a ZIP archive. To open it, you will need a computer with software capable of opening ZIP files. If you do not already have this capability, you can download a free trial of WinZip.
Download
Download Code for Chapter 7
The code examples for this title are stored in a ZIP archive. To open it, you will need a computer with software capable of opening ZIP files. If you do not already have this capability, you can download a free trial of WinZip.
Download
Download Code for Chapter 8
The code examples for this title are stored in a ZIP archive. To open it, you will need a computer with software capable of opening ZIP files. If you do not already have this capability, you can download a free trial of WinZip.
Download
Download Code from Chapter 11
The code examples for this title are stored in a ZIP archive. To open it, you will need a computer with software capable of opening ZIP files. If you do not already have this capability, you can download a free trial of WinZip.
Download
Download Code from Chapter 13
The code examples for this title are stored in a ZIP archive. To open it, you will need a computer with software capable of opening ZIP files. If you do not already have this capability, you can download a free trial of WinZip.
Download
Download Code for Chapters 14 and 15
The code examples for this title are stored in a ZIP archive. To open it, you will need a computer with software capable of opening ZIP files. If you do not already have this capability, you can download a free trial of WinZip.
Download
Download Code from Chapter 17
The code examples for this title are stored in a ZIP archive. To open it, you will need a computer with software capable of opening ZIP files. If you do not already have this capability, you can download a free trial of WinZip.
Download
Download Code from Chapter 19
The code examples for this title are stored in a ZIP archive. To open it, you will need a computer with software capable of opening ZIP files. If you do not already have this capability, you can download a free trial of WinZip.
Download
Download the Case Study from Chapter 19
The code examples for this title are stored in a ZIP archive. To open it, you will need a computer with software capable of opening ZIP files. If you do not already have this capability, you can download a free trial of WinZip.
Download
Download Missing Code from Chapter 19
The missing code is stored in a ZIP archive. To open it, you will need a computer with software capable of opening ZIP files. If you do not already have this capability, you can download a free trial of WinZip.
Download
Errata Download - corrected Florida Zipcodes
Download text file with corrected Florida zipcodes.
Download
Chapter
Page
Details
Date
Print Run
Download Content
The content for this title has been posted and may be accessed via http://www.wrox.com/WileyCDA/WroxTitle/productCd-0764584359.html
3/21/06

---

xxvi
Text Error
In the introduction page xxvi in the "What You Need to Use This Book" you mention you need Visual Studio 2205. It should be 2005.
2/23/06

---

32
Error in Text
In this chapter, you'll mainly explore the Controller Flow tab.

should be

In this chapter, you'll mainly explore the Control Flow tab.
06/28/2007

---

48
Error in Text/Code
In chapter 3, page 48 instructs the reader to:

"go to the page for this book at www.wrox.com and download the example extract ZipCode.txt file."

This is a data file, not "code".

To see the actual code, please see the above download for Chapter 3.
05/31/2006

---

64
Error in Reference in Figure 3-20
Figure 3-20 refers to the url:
http://www.atomic-x.com/xmlservices/HyperlinkExtractor.asmx

As of today, atomic-x.com is a pornographic site.
08/20/08

---

4
80
Error in Text
In the Configuration Manager page of the OLE DB Source Editor (Figure 4-8, select the Configuration Manager of your OLE DB source

should be:

Connection Manger not Configuration.
02/19/2008

---

91
Error in Text
5th line:

For example, in Figure 4.13

should read:

For example, in Figure 4.16
01/31/2008

---

94
Error in Text
"In the screenshot in Figure 4-15" should be referring to Figure 4-18.
07/05/2007

---

104
Error in Text
"You can see an example of this in Figure 4-28" should be referring to Figure 4-27.
07/05/2007

---

109
Error in Text
first paragraph of "Union All"
The Union All transform works much the opposite way as the Merge transform

should be:
The Union All transform works much the same way as the Merge transform
2/5/07

---

126
Error in URL
http://www.sunbiz.org/corpweb/inquiry/corfile.html should be: http://www.sunbiz.org/corfile.html
08/07/08

---

127-128
Error in Table
4th column: stops at 65 should be: 76
08/07/08

---

143
Error in Text
In paragraph 3, the chapter about the nuts and bolts of getting things done:

"thing" should read "things"
05/11/2006

---

149
Error in Text
On page 149, Step 11 tells the customer to configure a Flat File Destination "c:\myfile.txt", but in step 12 it calls the file: "C:\Execute SQL Sample.txt"

In Step 12 it should be changed to: "C:\myfile.txt" , this error happens twice in step 12's section.
05/17/2006

---

181
Error in Text
Fuzzy Lookup (used twice)

should be:
Fuzzy Grouping
05/17/07

---

187
Error in Text
OLE DB transform...the transform

should be:
OLE DB Source...the Source
01/14/07

---

233
Error in Code
^\d{5}([\@@hy]\d{4})?$

should be:
^\d{5}([\-]\d{4})?$

AND

\b([A@@hyZ]{2})\b

should be:
\b([A-Z]{2})\b
2/5/07

---

462
Error in Text
Page 462:
Text reads:
"select Tools -> Attach to Process"

Should read:
"select Debug -> Attach to Process"
08/14/2006

---

606
BankBatch
Fourth line of code reads "BankBatch". This should be styled as Heading 3, not code.
3/10/06

---