Professional SQL Server Reporting Services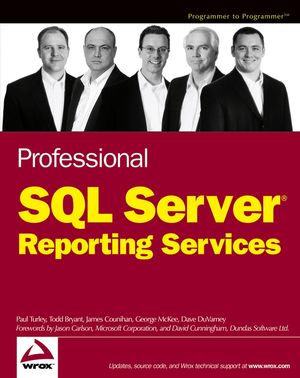 Professional SQL Server Reporting Services
ISBN: 978-0-764-56878-7
May 2004
624 pages
Product not available for purchase
Description
What is this book about?
SQL Server Reporting Services is the customizable reporting solution for report designers and programmers. This hands-on guide will get you up to speed quickly. You can create powerful reports without programming knowledge and extend reporting solutions using VB, C#, and ASP.NET.
Packed with detailed examples of building reports, designing report solutions, and developing deployment strategies for interacting with various platforms, this book prepares you to take full advantage of a revolutionary new tool.
What does this book cover?
Here are just some of the things you'll learn in this book:
Details of programming reports and report scripting
Advanced report design, including drill-down reports, nested lists, drill-through, links, and dynamic content
How to manage reports using Report Manager or program code
High-level strategies for business support systems
Rendering reports using .NET code, .NET IO namespace classes, and URL rendering
Deployment strategies to handle hardware, software, and platform considerations, licensing issues, and scaling options
Who is this book for?
This book is for developers and report designers using VB, C#, and ASP.NET who need to tie into SQL Server to build customized reports or to integrate reports into Windows or Web-based applications.
Introduction.
Chapter 1: Getting Started with Reporting Services.
Chapter 2: Reporting Services Architecture.
Chapter 3: Designing Reports.
Chapter 4: Designing Data Access.
Chapter 5: Advanced Report Design.
Chapter 6: Managing Reports Using the Report Manager.
Chapter 7: Managing Reports Using Program Code.
Chapter 8: Report Scripting.
Chapter 9: URL Access and Programmatic Rendering.
Chapter 10: Report Caching and Subscriptions.
Chapter 11: Report Definition Language.
Chapter 12: Extending Reporting Services.
Chapter 13: Deployment Strategies.
Chapter 14: Designing Business Intelligence Reporting Solutions.
Appendix A: Troubleshooting.
Appendix B: Migrating Access Reports.
Appendix C: Reporting Services Object Model.
Appendix D: Transact SQL Query Functions and Expressions.
Appendix E: Configuration Files.
Code and projects for all chapters (updated: 10/18/04)

Download
Code Downloads
Code downloads for this title are available here.
Download
Code Downloads
Code downloads for this title are available here.
Download
Code Downloads
Code downloads for this title are available here.
Code Downloads
Code downloads for this title are available here.
All the code and projects at 1/2 the size in RAR format (updated: 10/18/04)

Download
Code found in Chapter 7

Download
Code found in Chapter 8

Download
Code found in Chapter 9

Download
Code found in Chapter 10

Download
Code found in Chapter 12

Download
Code found in Chapter 14

Download
Missing File (updated: 10/18/04)
This portion of the "Report Definition Language" section was not included in the original downloadables. You may download the missing file here.
Download
Chapter
Page
Details
Date
Print Run
Errata for the book


1
2
Bottom of the third paragraph
"wanted" should be "had"
1
5
Bottom of the second paragraph
"take" should be "make"
1
5
Top of sixth paragraph
"AS400" should be "AS/400"
1
6
Middle of the fifth paragraph
"www.asp.com" should be "www.asp.net"
1
8
Top of the second paragraph
"Customer Relations Management" should be "Customer Relationship Management"
1
9
Middle of the first full paragraph
"take" should be "make"
1
13
Bottom of the fourth paragraph
"message" should be "massage"
1
13
Bottom of the fifth paragraph
"at end of day" should be "at the end of the day"
1
14
Middle of the first paragraph
".Net Framework" should be ".NET Framework"
1
14
Sixth and eighth rows
The author indicates that SQL Server Standard and Enterprise will run on Windows 2000 Professional which is not the case.
1
14
Fifth and seventh rows
The author indicates that SQL Server Standard and Enterprise will run on Windows XP Professional which is not the case.
1
16
Middle of the second paragraph
"The currently installed start is displayed for each feature."
1
16
Last sentence of the second paragraph
"features to installed" should be "features to be installed"
1
17
Top of the third paragraph
"it will include" should be "it includes"
1
19
Bottom of the sixth paragraph
"OLEDB" should be "OLE DB"
1
20
Top of the third paragraph
"tools" should be "tools"
1
20
Middle of the fourth paragraph
"display" should be "displaying"
1
21
Bottom of the first full paragraph
"database access" should be "database accesssed"
1
21
Top of the third paragraph
One period instead of two after the first sentence
1
21
Last sentence of the third paragraph
"If a cache of data could be held in memory rather than written to disk."
1
23
First word on the page
"http://" should be "https://"
1
23
Second element in the table
The fact that credentials may be exposed if the certificate is installed or configured improperly would be the case for all of the values (1,2 or 3).
1
24
Second sentence first paragraph
"Users may use it simply navigate" should be "Users may use it to simply navigate"
1
27
Last sentence of the fifth full paragraph
"A data source can obtain from practically any database product or data provider."
2
31
Middle of the first full paragraph
"to take the effort" should be "to make the effort"
2
33
First sentence of the second full paragraph
"hence the push/pull part of the model" should be "hence the pull part of the model"
2
37
Second sentence second paragraph
".NET managed providers" should be ".NET Data Providers"
2
37
Bottom half of the page
"OLEDB" should be "OLE DB"
2
38
First two paragraphs
".NET managed providers" should be ".NET Data Providers"
2
38
First two paragraphs
"OLEDB" should be "OLE DB"
2
45
Top heading of the page
Should "Deliver Extensions" be a larger heading?
2
46
Third row in table
"DataSources" should be "Data Source"
2
47
Second to last row in table
"Configuration" should be "ConfigurationInfo"
2
48
First sentence of the fourth full paragraph
"Internet Information Server" should be "Internet Information Services"
2
49
Fourth, fifth and sixth paragraphs
Fourth paragraph "Reporting Services web service", Fifth paragraph "Reporting Services Web Service" and sixth paragraph "Reporting Services Web Service".
2
52
First graphic on the page
"Internet Information Server" should be "Internet Information Services"
3
57
Second sentence on the page
"It usually makes sense to use a name that means indicates the name and location of the database."
3
57
Last sentence of the last paragraph
The dialog shown in Figure 3-4 is not just for SQL Server, but any OLE DB compliant database.
3
58
First sentence second paragraph
"Use Windows NT Integrated Security" should be "Use Windows NT Integrated security"
3
61
Second full paragraph
"The query string is returned to the Report Wizard dialog when you click on the OK as in Figure 3-11 button in the Query Builder window."
3
62
Second graphic on page
Figure 3-13 should include all four of the "Available fields" in the "Details" list box
3
65
Last sentence third full paragraph
"will be shortly discussed." should be "will be discussed shortly."
3
72
Last sentence first paragraph
The sentence should end in a period (.) not a tick (').
3
72
Second and third paragraphs on the page
Second paragraph "textbox", second paragraph "text box" and third paragraph "Textbox".
3
73
First sentence first paragraph
Figure 3-27 is referenced in the sentence when it should be Figure 3-28
3
74
Last two paragraphs on the page
The order of these two paragraphs should be switched. They are out of order.
3
83
Second to last sentence in the first paragraph
"StandardCost" should be "Standard Cost" and "ListPrice" should be "List Price"
3
86
Last element in the table on the page
Y or y is defined as year month which may mean the example should be "2003 November" instead of "November, 2003". I was unable to test it.
3
88
Second sentence third full paragraph
"IIF" should be "IIf"
3
89
The formula at the bottom of the page
The formula is missing a closing paren.
3
92
Last sentence second paragraph
"Edit | Group" should be "Edit Group" instead
4
97
Last sentence first paragraph
"please read chapter 2" I think should be "please read chapter 3"
4
98
First sentence second paragraph
"from the Solution Explorer right click menu the Report Wizard is launched". There is no Report Wizard option when right clicking the Solution Explorer. You need to right click the Report folder.
4
99
First sentence first paragraph
"Choose Add New Item from the Solution Explorer's right-click menu, new item options, and include Report Wizard, Report, and Data Source."
4
99
First sentence third paragarp
The author indicates that "local" will work as a valid server name if your SQL Server is running on the local system. This will not work. The setting needs to be either "." or "localhost".
4
99
The note in the middle of the screen
The author indicates both ports 1433 and 1434 need to opened to operate SQL Server. Based on KB Article 269882 only port 1433 is needed.
4
99
Fourth paragraph on the page
The author indicates that "use Integrated Windows Security, SQL Server security or both. SQL Server either uses Integrated Security only or both. You cannot setup SQL Server to use only SQL Server security. Also I think "security" should be uppercase in each case.
4
103
Last full sentence on the page
"ReportParameters item" should be "ReportParameters property"
4
107
First sentence sixth sentence
City_list should be City_List as displayed on the next page of the book
4
114
First Graphic on the page
The graphic text indicates "Alter Procedure" when it should be "Create Procedure".
4
115
Technical Typo
The first sentence of the third paragraph "Stored Procedure" should be "StoredProcedure".
4
117
First full paragraph on the page
"Filter tab" should be "Filters tab".
5
127
Code segment on the bottom of the page
The code segment appears to have double single quotes instead of single double quotes within the string value.
5
129
Middle of the second full paragraph
"Grouping/Sorting property" should be "Grouping property".
5
132
Last sentence of the second paragraph
"Jump to Bookmark" should be "Jump to bookmark.
5
132
Last full paragraph on
I was unable to locate the Product_Details report. I don't belive that the author indicated to the reader that they should name it that.
5
134
Bottom of the Page
I think the author should consider naming all reports when he indicates to the reader that it is time to create a new one. This is especially true if he plans to reference the report in text later in the chapter or book and even more important if the author is going to reference the title of the report from with in an application.
5
135
Middle of the first paragraph
"Grouping/Sorting property" should be "Grouping property".
5
135
Middle of the first paragraph
"Grouping and Sorting Properties" should be "Details Grouping"
5
138
Step 9
The font for "in the drop down list" is in the code typed font.
5
145
Last sentence of the first paragraph
"and select Column | Simple Column" should be "and select Chart Type | Column | Simple Column".
5
145
Table in the middle of the page
"Sales Last Year" should be "SalesLastYear", no spaces.
5
150
First sentence of the last paragraph
"ReorderLevel" should be "ReorderPoint".
5
150
Code segment on the bottom of the page
Instead of "IF" it should be "IIf" otherwise it will not compile.
6
163
Last paragraph on the page
"Start | Programs | Microsoft SQL Server" could also be "Start | All Programs | Microsoft SQL Server" if you're running Windows 2003.
6
175
Step 4
"Click the Data Source link" should be "Click the Data Sources link".
6
176
Step 6
The data providers that were available on my system were SQL Server, Oracle, OLE DB and ODBC, not SQL Server Analysis Services as indicated in the chapter.
6
176
Step 8
"in the Report Server" should be "in the report server".
6
196
Step 7
The author indicates that start date is optional. Only the stop date is optional as described in the interface as "Specify the date to start and optionally end this schedule".
6
199
Last sentence of the second paragraph
The author indicates "Last Run" when is should be "When Run".
7
207
First figure on the page
This figure is only applicable to the C# implementation. Once the reader makes a change to the name of their form they will need to make a similar change in the properties for the VB.NET project (setting the startup object).
7
210
First figure on the page
It appears that the form has been renamed to "PSRS_Manager". I don't believe the reader was ever told to make this update to the Text property of either the VB or C# example.
7
212
First VB.NET code listing on the page
The namespace for the VB.NET application fails because the namespace for the VB.NET application was never set. The reader was never told to change the namespace for the VB.NET application.
7
214
VB.NET listing at the top of the page
The "rs = New ReportingService()" call fails because vb is expecting a type.
7
214
C# Code listing on the page
The MessageBox class has not been imported to the class and this causes the application to not compile.
7
214
C# Code listing on the page
The author needs to import the namespace for the SOAP Exception class. The application will not compile without it.
7
215
First VB.NET code listing on the page
The namespace containing the SoapException has not been imported to the VB.NET application (System.Web.Services.Protocols). Additionally the MessageBox.Show line is missing a line continuation character (_). The application will not compile as is.
7
215
First VB.NET code listing on the page
The Sub declaration is declared as Private. This makes it so it is not visible from the calling procedure. The author needs to change it from "Private" to "Public".
7
215
C# Code listing on the page
The compiler is indicating that the protection level is not set correctly for RSUtilities. I don't believe the reader was ever told to create the class as static/shared.
7
216
Last sentence on the page
rs.ListChildren(/,true) should be rs.ListChildren("/",true)
7
216
VB.NET listing at the top of the page
There are several line continuation characters missing which does not allow the application to compile.
7
218
VB.NET listing at the top of the page
The sub declaration is missing a line continuation character which makes it so the application will not compile.
7
218
C# Code listing on the page
The listing does not indicate which line was added. There is no gray background in the listing for the line of code.
7
222
VB.NET listing at the top of the page
This listing is missing a line continuation character.
7
222
Second paragraph on the page
"treeViewFolders_AferSelect" should be "treeViewFolders_AfterSelect"
7
223
VB.NET listing at the top of the page
This listing is missing a line continuation character.
7
224
VB.NET listing on the page
This listing is missing a line continuation character.
7
225
Bottom of the Page
The author needs to tell the reader to set the Text property of the form.
7
225
Last paragraph on the page
The author tells the reader to add buttonOK to the form, but the form looks like it would have a buttonAdd based on the text on the button on the form.
7
229
The first VB.NET listing on the page
The listing is missing a line continuation character.
7
232
First C# code listing on the page
The author needs to give more explicit instructions on where to add the code segment. He may want to include the surrounding code.
7
233
The code listing at the top of the page
The VB.NET code listing is missing 2 line continuation characters.
7
236
VB.NET code listing on the top of the page
This code section is missing the line continuation character.
7
238
The C# listing on the top of the page
The code that was to be added to the project was not highlighted in gray.
7
238
The VB.NET code listing at the top of the page
The code segment is missing a line continuation character.
7
241
First paragraph on the page
The control name "open ReportDialog" should be "openReportDialog".
7
242
The partial C# listing at the top of the page
The last line of code (}) should not have a gray background.
7
242
The VB.NET code listing at the top of the page
The code listing is missing 2 line continuation characters.
7
242
The VB.NET code listing at the top of the page
The first and last line of the code listing should not have the gray background.
7
246
Both the listings at the top of the page
Each of the listings should have the gray background. All of the code is new to the listing.
7
246
Both the listings at the top of the page
Each of the listings also need to import the Wrox namespace for the project so the ReportingService can be used.
7
248
Second VB.NET listing on the page
The listing is missing a line continuation character.
7
248
Second C# lising on the page
At the very end of the event declaration "System.EventArgse" should be System.EventArgs e".
7
248
Second C# lising on the page
The code listing references PolicyForm when it should be PoliciesForm declared earlier in the chapter.
7
249
First VB.NET code listing on the page
The listing is missing a line continuation character.
7
249
Both the VB.NET and C# listings on the page
The author has not added the Public Properties used in the C# and VB.NET code listings on the top of the page. ItemPath, ItemName and several others are not accesssible and the code will not compile.
7
249
Both the VB.NET and C# listings at the bottom of the page
The same problems with the both of these listings as the previous; There a no public properties under the policies form and the code references PolicyForm instead of PoliciesForm.
7
250
Table for controls to be placed on the form
The table is missing the label for the roles label button.
7
250
Table for controls to be placed on the form
The label for the labelItemName has the wrong text value (it appears as "item name" instead of "Item Name". Additionally it looks as if it is bolded.
7
251
C# and VB.NET code listings
Each of the code listings need the Wrox namespace imported into their respective projects.
7
252
VB.NET code listing on the top of the page
I believe that all of the listing should have the gray background.
7
252
C# Code listing on the page
The C# listing refers to the form as "UserForm" when I think it should be "UserPolicyForm" instead.
7
253
VB.NET code listing on the top of the page
The listing is missing a line continuation character.
7
254
VB.NET code listing on the page
The listing is missing a line continuation character.
7
255
VB.NET code listing at the top of the page
The listing is missing a line continuation character.
7
257
VB.NET code listing on the top of the page
The listing is missing a line continuation character.
7
258
C# listing at the top of the page
"DialogResult.Ok" should be "DialogResult.OK".
7
258
VB.NET code listing on the page
The listing is missing 2 line continuation characters.
7
259
Second paragraph on the page
The paragraph mentions "PolicyForm" when I think it should be "PoliciesForm".
7
260
VB.NET code lising on the page
The listing is missing a line continuation character.
7
261
Figures on the page
I was unable to verify the figures because of the Public/Private variable declarations that were missing.
7
262
Table with the controls for the form
The Label control indicates the text value should be "Role name" when the form shows "role name".
7
262
C# Code listing on the page
Both the VB.NET and C# listings need to import the Wrox namespace in order to compile.
7
264
VB.NET code listing on the page
The listing is missing one line continuation character.
7
266
Table with the controls for the form
The table is missing the label for the Tasks checked list box
7
266
Table with the controls for the form
The Text value for label1 should be "Role Name" instead of "Role Name".
7
266
Both code listings
The Wrox namespace needs to be imported for these 2 code segments to compilie.
7
267
VB.NET code listing on the top of the page
The entire code listing should have the gray background.
7
268
VB.NET code listing on the page
The code listing is missing 2 line continuation characters.
7
270
VB.NET code listing on this page
The VB.NET code listings are missing several line continuation characters. Additionally the line that looks like "Me.textBoxDescription.Text.ToString,_" should be Me.textBoxDescription.Text.ToString, _" needs the space after the comma and before the underscore.
7
272
VB.NET code listing on the page
The VB.NET code listings are missing 2 line continuation characters.
7
273
VB.NET code listing on the page
"=New Reporting WebService.BatchHeader" should be "=New ReportingWebService.BatchHeader", without the space between Reporting and Web.
7
273
VB.NET code listing on the page
The listing is missing 2 line continuation characters.
8
289
Code segment on the bottom of the page
The #Region ' File Summary ' should be #Region "File Summary". It needs double quotes, not single quotes.
8
290
First code listing on the page
Again the #Region name needs to have double quotes instead of single quotes.
8
291
First code listing on the page
It appears that everything in the code listing that should be double quotes has been changed to single quotes instead.
8
291
Second code lising on the page
Again the double quotes have been replaced with single quotes.
8
296
Fifth code listing on the page
The code listing is missing a line continuation character.
8
297
Second code lising on the page
The code listing is missing a line continuation character.
8
297
Listing on the bottom of the page
The code listing has the single quotes instead of double and is missing a line continuation character.
8
299
Second code lising on the page
The listing is missing a line continuation character and the double quotes have been replaced with single quotes.
8
299
Third listing on the page
It appears that the listing is missing the closing End If.
8
300
Code listing at the bottom of the page
The code listing is missing a line continuation character.
8
301
Code listing at the top of the page
The closing End If is missing just before the End With
9
308
Third paragraph on the page
The sentence that starts out "Here is a quick look at retrieving the list of items…" needs to be moved down to just before the example of "http://localhost/reportserver?%2fProfessional…". It doesn't make sense where it is located.
9
308
Third bullet in the list
The third bullet in the list indicates "a single forward slash ()" and I think it should be "a single forward slash (/)".
9
311
The second bullet on the page
The author indicates that the command should be "rs:Command=GetResourceContent" when it should be "rs:Command=GetResourceContents", with an "s".
9
324
First VB.NET code listing on the page
The listing has a runtime error in it that will not allow the project to run correctly. Undre the constructor for the class the author has "name=name" when it should be "_name=name". The same can be said for the extension property.
9
326
Second C# lising on the page
The C# listing is missing the 2 underscores before the name and path private variables for the class. This causes the dropdown to have no values loaded in it once the user clicks the Get Items button.
9
329
First VB.NET code listing on the page
The listing is missing one line continuation character.
9
330
First VB.NET code listing on the page
The listing is missing 2 line continuation characters.
9
332
First VB.NET code listing on the page
I believe both of the variables declared here are already used in the application. The application will not compile.
9
340
C# listing at the bottom of the page
I think the C# listing is missing a closing "}". Additionally it's missing "return retVal;".
9
343
VB.NET listing on the bottom of the page
The listing is missing a line continuation character.
10
366
Second row in the table
CreateDataDrivenSubscription has a name argument that was not included.
10
366
Ninth row in the table
SetDataDrivenSubscriptionProperties is missing the name argument.
10
366
Tenth row in the table
SetSubscriptionProperties is missing the name argument.
10
367
First figure on the page
The figure does not include the render format drop down.
10
367
VB.NET code listing on the bottom of the page
The listing is missing a line continuation character.
10
370
Both of the listings on the bottom of the page
The author needs to indicate where the code belongs in the overall project, what event does this code segment belong in.
10
375
VB.NET listing on the bottom of the page
The variables sReport and sOwner are not declared.
11
384
End of step 3
Add click OK like the previous comment.
11
384
Step 4
"File|Add New Item|File" should be "File|Add New Item" then a new dialog is displayed which allow you to select an XML File.
11
384
Step 5
Click Open to continue.
11
384
Last sentence of the last paragraph
The xmlns attribute was unchanged after selecting "Create Schema" from the drop down menu. It stayed the same as figure 11-1.
11
386
Second listing on the page
The id attribute for this listing should be "Vehicles" instead of "Vehicle" as shown in figure 11-1.
11
386
Second listing on the page
The targetNamespace was not changed when I told the IDE to create a schema. This listing indicates the tempuri.org.
11
386
Paragraph in between the second and third listings
The author indicates "The <Vehicle> tag" when it should be "The <Vehicles> tag>".
11
386
Third listing on the page
The [<xs:element name="Vehicl] should be [xs:element name="Vehicles" >]
11
388
Thrid paragraph under "What is RDL"
"Business Intelligence Project" should be "Business Intelligence Projects".
11
388
Last sentence in the third paragraph under "What is RDL"
"Master Detail" should be "MasterDetail" as shown in Figure 11-8.
11
389
First sentence in the first paragraph on the page
"Master Detail" should be "MasterDetail" as shown in Figure 11-9.
11
389
Second figure on the page
My screen did not have "Import Reports" as shown in Figure 11-10.
11
390
Third full code segment on the page
None of the elements displayed in this listing were included in the listing that was created from VS.NET.
11
393
Second listing on the page
The only element that my listing included that the book's lising does not is "<rd:UseGenericDesigner>true</rd:UseGenericDesigner>" right after <CommandText />.
11
395
First 2 sentences of the first paragraph on the page
The first two sentences on this page are repeated at the beginning of the fourth paragraph on this page.
11
395
Third sentence of the first paragrph on this page
The third sentence on this page is repeated as the second sentence on the last paragraph on this page.
11
401
Second paragraph on the page
".NET framework" should be ".NET Framework".
11
403
Third bullet on this page
"very similar to ASP code-behind pages" should be "very similar to ASP.NET code-behind pages".
12
419
VB.NET code listing on the top of the page
The author has included semicolons at the end of the Imports statements. Semicolons are not used in VB.NET to indicate the end of a line of code. This is only the case in C#. The source will not compile as is.
12
425
C# and VB.NET code listings in the middle of the page
On the previous page the author indicated to add the class "CSVParameter" to the project. In both of the listings (C# and VB.NET) it appears that it has been named CSVDataParameter, I think.
12
427
C# and VB.NET code listings at the top of the page
The additional namespaces that need to be imported into the class should also be highlighted in gray.
12
427
C# and VB.NET code listings at the bottom of the page
I don't believe the reader has been told to add the namespace to the class for either of the projects (C# or VB.NET).
12
430
C# and VB.NET code listings in the middle of the page
Same as the previous note.
12
430
VB.NET code listing at the bottom of the page
There needs to be a space between "()" and "_".
12
431
VB.NET code listing in the middle of the page
The listing is missing 2 line continuation characters.
12
432
C# listing at the top of the page
The author has commented out the //NOOP line and in doing so commented out the closing "}". The application will not compile as is.
12
432
C# listing in the middle of the page
The author has commented out the //NOOP line and in doing so commented out the closing "}". The application will not compile as is.
12
434
C# and VB.NET code listings in the middle of the page
Both of the listings (VB.NET and C#) need the additional namespaces added that will allow the application to compile (at least System.IO).
13
448
First figure on page
"Internet Information Server" should be "Internet Information Services".
13
449
Second full paragraph on the page
The author indicates "running IIS, SQL Server 2003 (SP3a)" it should be "running IIS, SQL Server 2000 (SP3a)".
13
450
First figure on page
"Internet Information Server" should be "Internet Information Services".
13
451
Last sentence of the second paragraph on the page
The author indicates "You can also take advantage of Network Load Balancing to improve performance of SQL Server". NLB is not designed for applications such as SQL Server. It is designed for routing network traffic to systems that do not share common disk. The only type of clustering that SQL Server works best with is MCS type clusters. SQL Server and Windows lack a lock manager which prevents corruption of the data while another node is reading the data.
13
452
Second column third row in the table at the bottom of the page
"Internet Information Services 5.0" should be "Internet Information Services 5.1" for XP.
13
464
Text below "Configuring Using the Command Line Utility"
I count three places where "rsconfig.exe" is referred to as "rs.config". I think they should be changed to rsconfig.exe.
13
464
Command line text
The argument -a should specify the authentication method. This can be either Sql or Windows, the text indicates just SQL.
13
464
Command line text and explanation of the switches
The syntax is missing -t, -e and -c.
13
465
The -u switch argument
The author indicates that the username is case sensitive when using Windows authentication. Under Windows authentication, the password is only case sensitive, not the username.
13
467
Top half of the page
I count two places where "rskeymgmt" is referred to as "rs.keymgmt". I think they should be changed.
13
470
Path in the middle of the second paragraph
"Log Files" should be "LogFiles", with no space.
13
470
Second item in the table
"ReportServerWebApp_" should be "ReportServerWebApp__", two underscores instead of one before the timestamp. This is also true for the ReportServer information in the cell below in the text.
<