Professional Services Automation: Optimizing Project & Service Oriented Organizations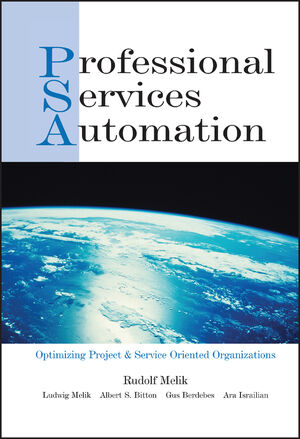 Professional Services Automation: Optimizing Project & Service Oriented Organizations
ISBN: 978-0-471-23018-2
May 2002
432 pages
Description
PRAISE FOR Professional Services Automation

""SPO/PSA should be viewed by the market as a cost of doing business or, in other words, a competitive necessity for conducting business in the services economy.""
-Ted Kempf, Principal Analyst, Gartner

""The depth and breadth of coverage is extraordinary. Any professional or firm considering the implementation of PSA must stop here first-to make a PSA decision without consulting this book first would be foolish.""
-Rick Freedman, author, The IT Consultant and The eConsultant

""I have requested each and every department in my organization to look at their respective chapters for incredible insight and concrete solutions.""
-Jean Denis Talon, President and CEO, AXA

""This is the reference book that you need to pick up and consider periodically as you plan, analyze, select, and roll out enterprise software.""
-Stuart Sackman, Vice President, ADP

""This book is a perfect starting point for any organization wishing to improve their services delivery through the implementation of a PSA product. It provides a clear overview of all of the aspects to consider when evaluating PSA products as well as how to avoid the stumbling blocks to successful PSA implementation.""
-Michael Lines, PMP, Publisher, allPM.com-The Project Manager's Homepage

""This guide addresses appropriately the subject of project management as an integral component of the PSA business environment-a sensible and pragmatic approach.""
-Lloyd Bartlett, P. Eng., MBA, PMP, Lecturer in Project Management, McGill University
Foreword.

Preface.

Acknowledgments.

PART 1: WHAT ARE PSA, SPO, ESM, SRM, ESA, AND BPA?

Managing the Service Supply Chain.

Streamlining Business Processes.

PART 2: SECTION A. PROFESSIONAL SERVICES AUTOMATION COMPONENTS.

Opportunity Management.

Resource Management.

Project Management.

Purchasing Workflows.

Revenue and Cost Accounting.

Timesheet Management.

Labor Management.

Expense Management.

Invoicing.

Request and Issue Tracking.

Knowledge Management.

Performance Analysis.

PART 2: SECTION B. EXTENDED COMPONENTS.

Customer/Partner Relationship Management.

Human Resource Management.

Complete Enterprise Accounting.

PART 3: SELECTION AND IMPLEMENTATION.

Evaluating a Professional Services Automation Solution.

A Best-of-Breed Approach.

Technology Considerations.

Integration.

Implementation Strategy.

Operations.

PART 4: THE FUTURE OF PROFESSIONAL SERVICES AUTOMATION.

Conclusion.

Appendix A: Other Sources of Information.

Appendix B: Professional Services Automation Request for Proposal Template .

Appendix C: In-House Software.

Appendix D: Professional Services Automation and Enterprise Resource Planning.

Appendix E: Emerging Standards and Technologies.

Appendix F: Purchasing Options.

Index.

About the Authors.
"" this book is worth reading ""(Project Manager Today, August 2002)