Professional SharePoint 2007 Design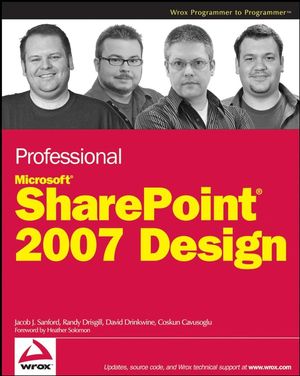 Description
From the planning details to the steps to the considerations, understand how to design the perfect SharePoint implementation by applying the information in Professional SharePoint 2007 Design. Begin with an overview of a installation and move through the technical aspects of creating usable, accessible, aesthetically pleasing SharePoint interfaces, with a primary focus on using SharePoint's basic design tools to create a better looking and more effective installation. Understand how to use PhotoShop to design the graphics and template model for your site and learn how to integrate SharePoint themes.
Foreword.
Introduction.
Chapter 1: Why Design?
Chapter 2: Web Design 101.
Chapter 3: General Concept Design.
Chapter 4: Communicating or Collaborating?
Chapter 5: Introduction to SharePoint Designer.
Chapter 6: Themes.
Chapter 7: Cascading Style Sheets with MOSS 2007.
Chapter 8: Master Pages.
Chapter 9: Page Layouts.
Chapter 10: Working with Out-of-the-BoxWeb Parts.
Chapter 11: Navigation.
Chapter 12: Customizing Search.
Chapter 13: Accessibility in SharePoint.
Chapter 14: Wrapping It All Up.
Appendix A: Introduction to Deploying SharePoint Designs.
Index.
Chapter
Page
Details
Date
Print Run
53
Typo in Text
1st line of text:

Similar to this, the palette groups (e.g., the Navigator/Historam/Info palette group)

Historam

Should be

Histogram


9/3/09

---

3
94
Error in Text
First complete paragraph, 2nd to last sentence:

Once you have it saved, open it up in Photoshop (File->Open) and then, at this point, copy it (Edit- > Copy).

Should be

Once you have it saved, open it up in Photoshop (File->Open), select the whole image (Select->All), and then, at this point, copy it (Edit- > Copy).
1/26/09

---

95
Typo in Text
Second line on Page 95:

"over-to-top"

Should be:

"over-the-top"
1/26/09

---

114
Error in Text
Text color is listed with 7 digits

Should be

6 digits
1/26/09

---

115
Error in Text
Missing "if" in parenthesized text on page 115.

It should read "click the group icon in the layer palette to make it active if it is not."
1/26/09

---

215
Typo in Text
In step 5, the sentence repeats "so that" twice in a row.
1/26/09

---

281
Error in Text
First line of page 281: "PlaceHodlerAdditionalPageHead"

Should be

"PlaceHolderAdditionalPageHead"



It is correct further down in the text.
1/26/09

---