Professional SharePoint 2007 Records Management Development: Managing Official Records with Microsoft Office SharePoint Server 2007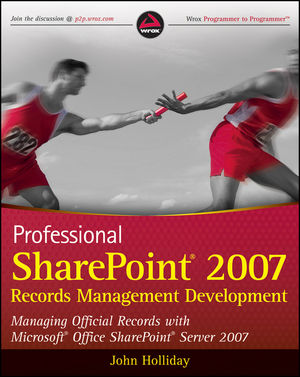 Description
Unique guide to records management methodologies for Microsoft Office SharePoint Server 2007
There may be books available on how to develop solutions for Microsoft Office SharePoint Server 2007, but this is the first book to provide step-by-step guidance for designing and building records management solutions on the SharePoint platform. You'll learn the five core services of any records management system-confidentiality, information integrity, high availability, adherence to policy, and audit ability-then explore the tools and techniques needed to implement them in SharePoint.
The book helps you understand official records in the context of day-to-day collaboration and regulatory compliance; you'll also learn how to design extensible Windows Workflow Foundation (WF) components with records management as the central focus.
Reviews Office SharePoint Server and how it provides a solid foundation for managing official records using specially constructed web sites and custom components
Discusses the "File Plan", which describes where each record is stored, how long it is kept, and the manner and conditions under which it is destroyed
Shows you how to apply the powerful features of the SharePoint platform to convert collaborative documents into managed files in a record center site
Addresses best practices for creating records repositories, developing file plans to identify official records, controlling the creation and distribution of records using custom content types and information policy components, and more
The companion Web site includes downloadable code modules you can use as a starting point for building real-world records management solutions on the SharePoint platform
If you're a programmer, software architect, business analyst, or IT professional working in SharePoint, you'll want this unique book on your shelf.
Introduction.
Chapter 1: Official Records.
Chapter 2: Preparing for Records Management Development.
Chapter 3: SharePoint Tools for Managing Records.
Chapter 4: The MOSS 2007 Records Center.
Chapter 5: Building and Configuring a Records Repository.
Chapter 6: Populating the Records Repository.
Chapter 7: Information Management Policy.
Chapter 8: Information Policy and Record Retention.
Chapter 9: Information Policy and Record Auditing.
Chapter 10: Managing Physical Records.
Chapter 11: Suspending Record Processing Using Holds.
Chapter 12: Building and Deploying Custom Routers.
Chapter 13: Maintaining Record Integrity.
Chapter 14: Managing Electronic Mail Records.
Chapter 15: Using Workflow to Manage Records.
Chapter 16: The DoD 50152 Add-On Pack.
Index.