Professional SlickEdit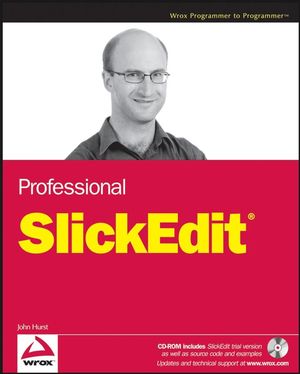 Description
Professional SlickEditis the first guide to the award-winning SlickEdit tools, and is technically reviewed by the SlickEdit development team. SlickEdit expert John Hurst shares his years of experience in developing with SlickEdit to teach readers how to maximize the tool's features, and to write and debug code faster than they have before. Additionally, the book includes a CD ROM with an extended trial version of SlickEdit not available anywhere else.

Professional SlickEdit is heavy on examples, making this a hands-on guide that will get readers up and running with the tools quickly. Topics include:
Customizing the environment
Staying organized with Workspaces and Projects
Understanding Tagging
Quickly navigating code
Power editing techniques for text, code and data
Taking advantage of Aliases and File Templates
Slick-C Macro Programming
Custom Language Support
DIFFzilla and other tools
And More!
Introduction.
Part I: Getting Started with SlickEdit.
Chapter 1: Introducing SlickEdit.
Chapter 2: Configuration.
Chapter 3: Managing Windows.
Part II: Using SlickEdit.
Chapter 4: Workspaces and Projects.
Chapter 5: Context Tagging.
Chapter 6: Navigation.
Chapter 7: Search and Replace.
Chapter 8: Editing Text.
Chapter 9: Editing Code.
Chapter 10: Editing Data.
Chapter 11: Aliases and File Templates.
Chapter 12: Document Types.
Chapter 13: Comparing and Merging.
Chapter 14: Version Control.
Part III: Advanced SlickEdit.
Chapter 15: Other Tools.
Chapter 16: Slick-C Macro Programming.
Chapter 17: Customization.
Appendix A: Settings for Different Emulations.
Appendix B: Regular Expression Syntax.
Appendix C: SlickEdit Callbacks.
Appendix D: What's on the CD-ROM.
Index.
120
Error in Table,p. 120 Table 6-1 The commands wrox-prev-word and wrox-next-word were changed during writing to wrox-prev-whitespace-word and wrox-next-whitespace-word . They are incorrect in this table, and in several occurrences in the text in the following pages.
01/05/2008
121
Error in Text,paragraph 3:

further below in this chapter

should be:

later in this chapter
01/15/2008
121
Error in Figure,Figure 6-6:

the line numbered 5 should indicate the end of the word size , not between the 'z' and the 'e' as it does.
01/15/2008
200
Error in Text, Add data in columns

should be:

Add characters in columns
01/15/2008
205
Error in Figure,The description of Figure 10-8 should state 10 x 3 block selection .
01/15/2008
208
Error in Formatting,Last line: block fill and block insert are not commands, and should be in the regular paragraph font.
01/15/2008
220
Addition to Text,1st para: As well as mentioning quote-key, I should mention commands like keyin-space and keyin-enter here.
01/15/2008
223
Error in Text, some CSV data

should be:

some data

(The data are not CSV in this example.)
01/15/2008
259
Error in Text, several commercial tools

should be:

many commercial tools
01/15/2008
262
Problem with Example,There is an example XML fragment shown here, but there is no discussion of what it illustrates! I left out a paragraph or two of explanation, and possibly some steps to follow.
01/15/2008
269
Correction,The Alt+N key binding for keyin-buf-name requires the WROX emulation. Should be indicated as (WROX: Alt+N) .
01/15/2008