Professional Wikis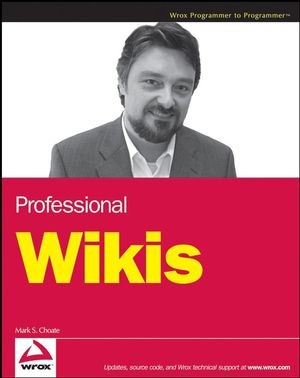 Description
This book shows you how to install, use, manage, and extend a wiki using MediaWiki—the wiki engine used to power Wikipedia. You'll learn wiki terminology, how to create user accounts and new pages, and find your way around the wiki. Special focus is placed on how wikis are used in software and web development projects and how their capabilities ideally suit a specific environment and audience. You'll quickly come to discover why wikis are a valuable addition for any organization that wants to increase productivity using web-based collaboration tools.
Introduction.
Chapter 1: Wikis atWork.
Chapter 2: InstallingMediaWiki.
Chapter 3: Getting Started withMediaWiki.
Chapter 4: Writing and Editing Content.
Chapter 5: Images and Files.
Chapter 6: Page Actions and Version Control.
Chapter 7: Information Architecture: Organizing Your Wiki.
Chapter 8: MagicWords, Templates, and Skins.
Chapter 9: Extensions.
Chapter 10: The MediaWiki API.
Chapter 11: Wiki Performance.
Index.