Professional Windows® Workflow Foundation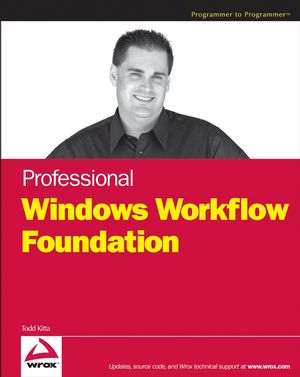 Description
If you want to gain the skills to build Windows Workflow Foundation solutions, then this is the book for you. It provides you with a clear, practical guide on how to develop workflow-based software and integrate it into existing technology landscapes. Throughout the pages, you'll also find numerous real-world examples and sample code that will help you to get started quickly.

Each major area of Windows Workflow Foundation is explored in depth along with some of the fundamentals operations related to generic workflow applications. You'll also find detailed coverage on how to develop workflow in Visual Studio(r), extend the framework with custom code, and utilize the framework with Microsoft(r) technologies such as SharePoint(r) 2007 and Windows Communication Foundation (WCF). You&'ll then be able to use Windows Workflow Foundation to create innovative business solutions that provide value to organizations.

What you will learn from this book
* The different areas of the Windows Workflow Foundation architecture
* Details about workflow hosting, execution, and communication
* How to build workflow-based solutions without constructing the underlying workflow logic
* Tips for developing solutions using the out-of-the-box functionality
* Techniques for extending the base APIs
* How to apply each piece of the Windows Workflow Foundation platform to real-world scenarios
* Best practices for debugging workflows

Who this book is for
This book is for developers and architects interested in learning more about Windows Workflow Foundation. You should have some familiarity with the .NET Framework.
Acknowledgments.
Introduction.
Chapter 1: An Introduction to Workflow and Windows Workflow Foundation.
Chapter 2: Hello, Workflow!
Chapter 3: Breaking It Down.
Chapter 4: Workflow Development in Visual Studio.
Chapter 5: Workflow Hosting, Execution, and Communication.
Chapter 6: Activities.
Chapter 7: Runtime Services.
Chapter 8: Advanced Activity Development.
Chapter 9: Rules.
Chapter 10: State-Machine Workflows.
Chapter 11: Dynamic Update and Designer Re-Hosting.
Chapter 12: Exceptions, Faults, and Debugging.
Chapter 13: Windows Workflow Foundation and ASP.NET.
Chapter 14: Windows Workflow Foundation and Connected Systems.
Chapter 15: Window Workflow Foundation and the Microsoft Office System.
Index.
Code Downloads
Code downloads for this title are available here.
Download
Code Downloads

Download
Code Downloads
Code downloads for this title are available here.
Code Downloads

Ch. 9 Code Update - Dynamic Update with Rules
This project addressess the topic of dynamic update with rules. If you run the project with the Suspend activity disabled, the credit score will be too low and the status message will be false. However, if you run the workflow with the Suspend activity enabled, the dynamic update code will run thereby lowering the threshold and causing the status to be true.
Download
Chapter
Page
Details
Date
Print Run
3
Missing Word
Windows Workflow Foundation Components
The Runtime Engine
The workflow runtime engine also exposes several events that let your application when a workflow instance is completed, aborted, or has gone idle.

should be:
The workflow runtime engine also exposes several events that let your application know when a workflow instance is completed, aborted, or has gone idle.
05/08/07

---

5
Chapter 5 Figures Out of Order
Figure 5-6 should be Figure 5-4

Figure 5-5 should be Figure 5-6

Figure 5-4 should be Figure 5-5
11/12/07

---

Ch. 9 Code Update - Dynamic Update with Rules
An update to the code for Chapter 9 is available in the Downloads section.
6/12/07

---