Professional Windows Phone 7 Game Development: Creating Games using XNA Game Studio 4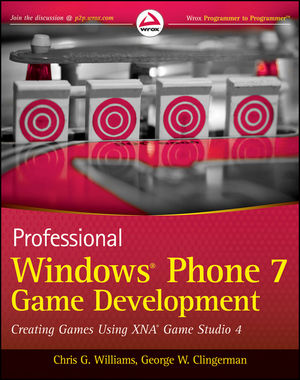 Description
Create the next generation of gaming titles for Windows Phone 7!
Providing an overview of developing games for Windows Phone 7 while working within XNA Game Studio 4, this comprehensive resource covers such essential topics as device/emulator, development tools, device orientation, tilt and accelerometer sensors, multi-touch, working with Cloud and Web services, and more. Three complete games are included within the book plus hands-on explanations and clear example codes help you gain a deeper understanding of the Windows Phone 7 features so that you can start building a game right away.
Serves as a comprehensive reference on Windows Phone 7 game development with XNA Game Studio 4
Includes real-world examples and anecdotes, making this book a popular choice for those taking their first steps into the game development industry
Demonstrates how to program for device orientation, incorporate Touch Input, add music to a game, work with 3D, and take your game to the marketplace
Put your game face on and start designing games for Windows Phone 7 with Professional Windows Phone 7 Game Development!
INTRODUCTION.
CHAPTER 1: GETTING TO KNOW THE WINDOWS PHONE 7 DEVICE.
CHAPTER 2: GETTING STARTED.
CHAPTER 3: ORIENTATION.
CHAPTER 4: TOUCH INPUT.
CHAPTER 5: GIVE ME YOUR INPUT.
CHAPTER 6: THE STATE OF THINGS.
CHAPTER 7: LET THE MUSIC PLAY.
CHAPTER 8: PUTTING IT ALL TOGETHER: DRIVE & DODGE.
CHAPTER 9: WHOA! THE WORLD ISN'T FLAT AFTER ALL.
CHAPTER 10: IT'S YOUR TURN!
CHAPTER 11: THE WORLD OUTSIDE YOUR WINDOW(S).
CHAPTER 12: PUTTING IT ALL TOGETHER: POKER DICE WITH FRIENDS.
CHAPTER 13: DUDE, WHERE'S MY CAR?
CHAPTER 14: TAKE A PICTURE; IT'LL LAST LONGER!
CHAPTER 15: PUTTING IT ALL TOGETHER: PICTURE PUZZLE.
CHAPTER 16: WHERE DO YOU GO FROM HERE?
INDEX.
Chapter
Page
Details
Date
Print Run
27
Error in Text
ContentLoad() should be" LoadContent()
5/12/11

---

34
Error in Reference
"As you saw in Listing 3-2, ..." should be: Listing 3-4
5/12/11

---

35
Error in Code
The example code uses "Accelerometer.ReadingChanged..." This should be "accelerometer.ReadingChanged..."
5/12/11

---

214
Error in Code
Hazards.cs code

public void Update(GameTime gameTime, Sprite collisionSprite, Sprite.CollissionDelegate collisionDelegate)




Currently reads: 
 hazard.Position.Y= GetLanePosition();
 hazard.Position.Y = lastYPositionOfHazardInChain - 300;



... // Should read:
 hazard.Position.X= GetLanePosition();
 hazard.Position.Y = lastYPositionOfHazardInChain - 300;
...


6/13/2011

---

216
Error in Code
Maingame.cs




Currently reads:
instead of
   input.AddTouchGestureInput(ActionMoveRight, GestureType.Tap, ScreenLeftHalf);


Should read:
protected override void SetupInputs()
...
   input.AddTouchGestureInput(ActionMoveLeft, GestureType.Tap, ScreenLeftHalf);
...


6/13/2011

---

334
Error in Code



Currently reads:
....
public void(string myId, string theirId)
...


Should read:
...
public void RequestGame(string myId, string theirId)
...


(forgot the Method name from method definition)


6/13/2011

---