Professional iPhone and iPod touch Programming: Building Applications for Mobile Safari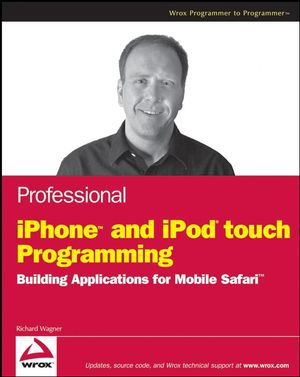 Description
The Safari-exclusive applications for iPhone and iPod touch assemble various elements, and this book shows you how to integrate these elements with key design concepts and principles in order to develop a highly usable interface for the touch screen. You'll learn to use existing open-source libraries in your code, imitate the overall look and feel of built-in Apple applications, and migrate existing Web 2.0 apps and sites to this new mobile platform. By the end of the book, you'll feel untouchable as you create a custom mobile application from scratch.

Note: CD-ROM/DVD and other supplementary materials are not included as part of eBook file.
Acknowledgments.
Introduction.
Chapter 1: Introducing the iPhone and iPod touch Development Platform.
Chapter 2: Designing a User Interface.
Chapter 3: Implementing the Interface.
Chapter 4: Styling with CSS.
Chapter 5: Handling Touch Interactions and Events.
Chapter 6: Advanced Programming Topics: Canvas and Video.
Chapter 7: Integrating with iPhone Services.
Chapter 8: Enabling and Optimizing Web Sites for iPhone and iPod touch.
Chapter 9: Bandwidth and Performance Optimizations.
Chapter 10: Packaging Apps as Bookmarks: Bookmarklets and Data URLs.
Chapter 11: Case Studies: Beyond Edge-to-Edge Design.
Chapter 12: Testing and Debugging.
Index.