Professionalism: The Third Logic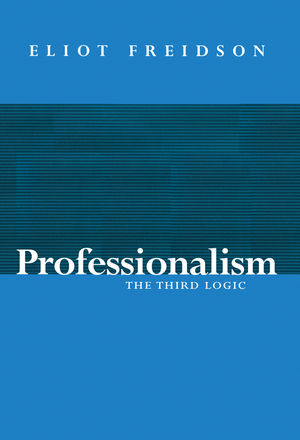 Professionalism: The Third Logic
ISBN: 978-0-745-66629-7
Jul 2013, Polity
260 pages
Description
Eliot Freidson has written the first systematic account of professionalism as a method of organizing work. In ideal-typical professionalism, specialized workers control their own work, while in the free market consumers are in command, and in bureaucracy managers dominate. Freidson shows how each method has its own logic requiring different kinds of knowledge, organization, career, education and ideology. He also discusses how historic and national variations in state policy, professional organization, and forms of practice influence the strength of professionalism.


In appraising the embattled position of professions today, Freidson concludes that ideologically inspired attacks pose less danger to professionals' institutional privileges than to their ethical independence to resist use of their specialized knowledge to maximize profit and efficiency without also providing its benefits to all in need.


This timely and original analysis will be of great interest to those in sociology, political science, history, business studies and the various professions.
Acknowledgements.
Introduction.
Part One: Professionalism: the Ideal Type.
Chapter 1: Professional Knowledge and Skill.
Chapter 2: Divisions of Labour.
Chapter 3: Labor markets and Careers.
Chapter 4: Training Programs.
Chapter 5: Ideologies.
Part Two: The Contingencies of Professionalism.
Chapter 6: States and Associations.
Chapter 7: Bodies of Knowledge.
Chapter 8: The Assault on Professionalism.
Chapter 9: The Soul of Professionalism.
Notes.
References.
Index
"This work is the capstone of Eliot Freidson's extraordinarily distinguished career as a medical sociologist and student of the professions. The book summarizes a wide range of literature within Freidson's innovative and profound theory of professionalism as a "logic" of institutions different from (and in conflict with) the logics of the market and of bureaucracy. It should be required reading for anyone concerned with the vital issue of the importance of - and contemporary threats to - the social values intrinsic to professionalism."
Robert Alford, City University of New York


"As learned and tightly argued as any work in the Weberian tradition, this book develops an ideal-type analysis of professionalism that transcends the particular circumstances of specific occupations. Freidson's distinctions between professions, technical occupations and crafts are likely to inform all subsequent discussions. Everyone who studies the professions will need to take this important book into account." Steven Brint, University of California, Riverside
A The first systematic analysis of professionalism
A Illustrated by a wide range of historical and national professions
A Draws comparisons with the models of the free market and of bureaucracy