Profiles in Cardiac Pacing and Electrophysiology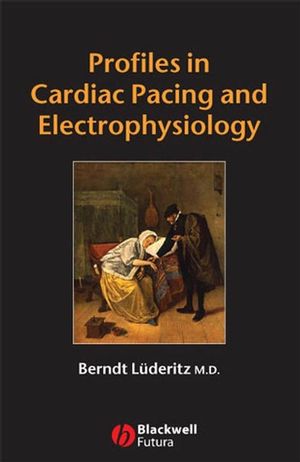 Profiles in Cardiac Pacing and Electrophysiology
ISBN: 978-0-470-99491-7
Nov 2007, Wiley-Blackwell
240 pages
Description
Profiles in Cardiac Pacing and Electrophysiology is a collection of short biographies of scientists and physicians who have played (or still play) a significant role in improving diagnosis and therapy of heart rhythm disturbances including electrophysiology and pacing.


Altogether, approximately 250 remarkable individuals are described. Not only is the book filled with biographies of past pioneers of rhythmology, some of whom lived long ago, but it also includes many contemporary rhythmologists.


In addition to these biographies, it contains:



An extensive table of the History of the Disorders of Cardiac Rhythm from the 16th to the 20th century

A series of historical pages developed by the author for every issue of the Journal of Interventional Cardiac Electrophysiology (JICE) and reflecting eminent personalities or events in medicine

A glossary of arrhythmias, electrophysiology and pacing
Foreword.
Preface.
About the Author.
Part 1 Encyclopdeia Rhythmologica.
Part 2 Dictionary of Electrophysiology and Pacing.
Part 3 historical Pages.
Appendix 1 History Table.
Appendix 2 NASPE (North America Society of Pacing and Electrophysiology)-Heart Rhythm Society.
Appendix 3 Name Index.
Foreword by Masood Akhtar, MD. Milwaukee, USA
'Professor Berndt Lüderitz has made a chivalrous effort to acknowledge many, if not most contributions to the literature of cardiac electrophysiology. Most prior medical/ historical communications have given minimal attention to the area of cardiac arrhythmia, and in this regard, the book serves a unique purpose in addressing the discipline of cardiac electrophysiology. Its alphabetical approach, bibliography subjects, and name indices are very valuable. Specific contributions are mentioned under the author's biography.

Clearly, many aspects of the history of a developing field represent moving targets, especially as related to the dynamic, explosive field of cardiac electrophysiology, and there is a lot happening as one uncovers past and present events. Nonetheless, cardiac electrophysiology today is a fairly well-defined discipline because of the creativity, dedication and hard work of the folks covered in this text. Digging up the classic contributions from often obscure sources also makes this book a must-read for those who want to get the facts straight. A subtle humor is noted at times and makes interesting reading.

This book will be a source to all students of electrophysiology including the current generation and the readers will find a variety of aspects covered. I congratulate Professor Lüderitz, who dedicated a lot of time and effort to bring this together. We should all take advantage of this resource.'
A history to the dynamic and explosive field of cardiac electrophysiology


Collection of short biographies of scientists and physicians who have played (or still play) a significant role in improving diagnosis and therapy of heart rhythm disturbances

Extensive table of the History of the Disorders of Cardiac Rhythm

Series of historical pages developed by the author for Journal of Interventional Cardiac Electrophysiology

Glossary of terms