Profiles in Performance: Business Intelligence Journeys and the Roadmap for Change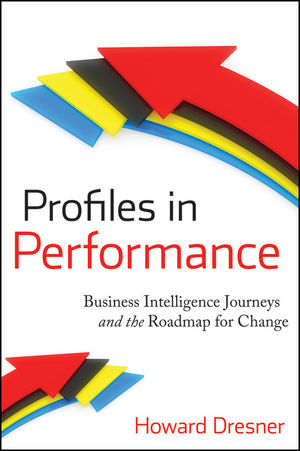 Profiles in Performance: Business Intelligence Journeys and the Roadmap for Change
ISBN: 978-0-470-57011-1 October 2009 192 Pages
Description
Too many organizations invest in performance management and business intelligence projects, without first establishing the needed conditions to ensure success. But the organizations that lay the groundwork for effective change first reap the benefits.
In Profiles in Performance: Business Intelligence Journeys and the Road Map for Change, Howard Dresner (author of The Performance Management Revolution) worked with several extraordinary organizations to understand their thriving "performance-directed culture." In doing so, he developed a unique maturity model-which served as both a filter to select candidates and as a lens to examine accomplishments.
Interviews with people from all sides of the organization: business users, finance, senior management and the IT department
Provides a complete picture of their progress from inception to current state
The models, analyses and real world accounts from these cases will be an invaluable resource to any organization hoping to improve or initiate their own performance-directed culture.
Table of contents
Foreword.
Preface.
Acknowledgments.
CHAPTER 1 Performance-Directed Culture.
Four Levels of Maturity.
Six Performance-Directed Culture Criteria.
The Maturity Model as an Assessment Tool.
CHAPTER 2 Denihan Hospitality Group.
9/11 Rocks the World.
A New Era of Growth Begins.
An Ownership Change Spawns a Brand-New Company.
The Economy Puts the Brakes on Rapid Growth.
The Seeds of a Data-Driven Culture Are Planted.
New Talent Brings Different Perspectives.
Operational and Financial Data Come Together.
Widening Cultural Divide?
Bringing Everything Together.
CHAPTER 3 Cleveland Clinic.
Determined to Lead.
The Gap between Medical Excellence and Business Performance.
Searching for Equilibrium.
The Times Are Changing.
Time for Change.
A New Leader for the 21stCentury.
CHAPTER 4 Northern California Public Broadcasting.
Can the Same Standards Be Applied to Nonprofits and For-Profits?
Setting the Stage for Public Broadcasting in America.
San Francisco's Unique Brand of Public Television.
Seismic Changes in Public Broadcasting.
Money Is Always an Issue.
A Growing Desire for Stronger Financial Management.
New CFO Shakes Things Up.
CHAPTER 5 Mueller Inc.
New Owners and a Changing Market Demand a New Focus.
Mueller Gets Back on Track.
Growth Tests Mueller.
The 21stCentury Brings a New Set of Challenges.
Formalizing Performance Management at Mueller.
An ERP System that Works!
Beyond ERP to Business Intelligence.
Mueller Refines its Management System.
CHAPTER 6 Tying It All Together.
It's All about Change.
Other Factors to Consider.
Applying the Lessons Learned.
Index.
Reviews
"A thought-provoking exploration of the fascinating intersection between people, processes, and technology, and an important tool for all levels of management, providing key insights into the formation of a performance-directed culture and a glimpse into those organizations that have successfully created one." (AccountingWEB.com, February 15, 2010)