Profiles in the History of the U.S. Soil Survey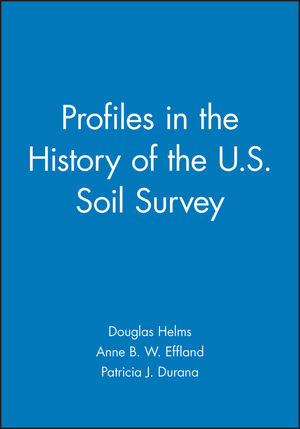 Profiles in the History of the U.S. Soil Survey
ISBN: 978-0-470-37673-7
Apr 2008
331 pages
Description
Profiles in the History of the U.S. Soil Survey offers a broad-ranging collection of essays chronicling the development of the U.S. Soil Survey and its influence on the history of soil survey as a scientific discipline that focuses on mapping, analysis, and description of soils.
Appraises the influences of key individuals and institutions on the establishment of federal support for and coordination of U.S. soil surveys.
Provides an account of life in the field, detailing experience shared by many soil scientists and survey processionals.
Reviews the opening of careers in soil survey to women and African-Americans.
Relates aspects of the utility of the soil survey to other federal services, to other fields of research, and to land-use planning.
Discusses the future of the U.S. Soil Survey and the new directions both the survey and its uses will take.
Soil scientists and other soil survey professionals will find this collection valuable both for the new research it provides and for the memories it preserves of life and work in the field and laboratory. Historians will increasingly turn their attention to this crucial earth science as the intriguing connections between soils, the environment, and human history become more apparent. Teachers, students, and agriculturalists will also appreciate this detailed account of the Soil Survey.
Introduction.
Chapter 1. Founding the USDA's Division of Agricultural Soils: Charles Dabney, Milton Whitney, and the Sate Experiment Stations (Douglas Helms, Anne B. W. Effland, and Steven E. Phillips).
Chapter 2. Early Leaders of the Soil Survey (Douglas Helms).
Chapter 3. History of the Soil Survey Laboratories (Klaus W. Glach and C. Steven Holzhey).
Chapter 4. Memoirs of a Soil Correlator (Joe D. Michols).
Chapter 5. Opening Opportunities: Women in Soil Science and the Soil Survey (Maxine J. Levin).
Chapter 6. Contributions of African-Americans and the 1890 Land-Grant Universities to Soil Science and the Soil Survey (M. Dewayne Mays, Horace Smith, and Douglas Helms).
Chapter 7. Soil Survey and the U.S. Forest Service Dennis Roth).
Chapter 8. A History of Soil Surveys and Soil Science in the Bureau of Land Management (James Muhn).
Chapter 9. Soil Survey and Oil-Geomorphology (Vance T. Holliday, Leslie D. McFadden, E. Aurthur Bettis, and Peter W. Birkeland).
Chapter 10. Soil Survey Interpretations: Past, Present, and Looking to the Future (Patricia J. Durana and Douglas Helms).
Chapter 11. The American Survey in the Twenty-First Century (Horace Smith and Berman D. Hudson).
Appendix A. Chronology of the U.S. Soil Survey (Patricia J. Durana).
Appendix B. History of the U.S. Soil Survey: A Bibliography (John P. Tandarich).
Index.