Profit Analysis for Business Managers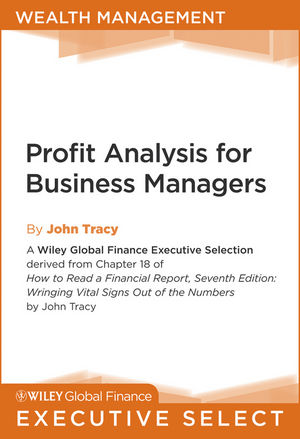 Profit Analysis for Business Managers
ISBN: 978-1-118-00660-3 December 2010 216 Pages
Description
Financial reports provide vital information to investors, lenders, and managers. This chapter from the seventh edition of
How to Read a Financial Report
offers a plain-English user's guide to financial reports. The book helps you get a sure-handed grip on the profit, cash flow, and financial condition of any business. This chapter delves into:
External income statements
Comparing Equal Percent changes
Reporting operating expenses
Analyzing a management profit report
Making changes in the profit equation
Determining the breakeven point
Table of contents
Part One—Components and Connections in Financial Statements.
1 Starting with Cash Flows.
2 The Three Financial Statements.
3 Profit Isn't Everything.
4 Sales Revenue and Accounts Receivable.
5 Cost of Goods Sold Expense and Inventory.
6 Inventory and Accounts Payable.
7 Operating Expenses and Accounts Payable.
8 Operating Expenses and Prepaid Expenses.
9 A Unique Expense: Depreciation.
10 Accruing the Liability for Unpaid Expenses.
11 Income Tax Expense and Its Liability.
12 Net Income and Retained Earnings; Earnings per Share (EPS).
13 Cash Flow from Operating (Profit-Making) Activities.
14 Cash Flows from Investing and Financing Activities.
15 Footnotes to Financial Statements.
Part Two—Financial Statement Analysis.
16 Impact of Growth and Decline on Cash Flow.
17 Financial Statement Ratios.
18 Profit Analysis for Business Managers.
Part Three—Reliability of Financial Report.
19 Accounting and Financial Reporting Standards.
20 Accounting Methods and Massaging the Numbers.
21 Audits of Financial Reports in the Post-Enron Era.
22 Parting Comments.
Index.