Profitable Partnering for Lean Construction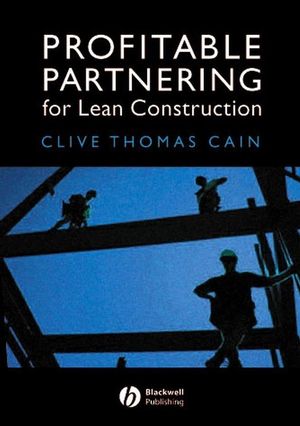 Profitable Partnering for Lean Construction
ISBN: 978-1-405-14805-4 April 2008 Wiley-Blackwell 256 Pages
Description
The lean procurement techniques given in this practical guide could save clients up to 40% of total design and construction costs; case history evidence is included to prove that the techniques really work. The guide goes on to explain in equal depth the lean construction techniques that supply-side design and construction firms (including trades contractors) need to adopt to deliver the savings while boosting their profit margins.
Written in an accessible style, it explains why lean construction techniques will only deliver this high level of savings if they are underpinned by long-term, strategic, supply-side partnering relationships between consultants, construction contractors, trades contractors and manufacturers.

This is a 'how to' book written in terms everyone can understand, without the need for an expert interpreter or costly training.
Table of contents
Chapter One:
'What is partnering?'.
Chapter Two: 'Why partner at all?'.
Chapter Three: 'The unchanged UK demand for improvement'.
'The two key differentiators of construction best practice'.
'The Six goals of construction best practice'.
Chapter Four: 'The international demand for improvement'.
Chapter Five: 'Partnering in the virtual company'.
Chapter Six: 'Setting up supply-side partnerships'.
'Action plan for setting up strategic supply-side partnerships'.
'A protocol to underpin the relationship between a main construction contractor and long-term, strategic supply-side partners'.
Chapter Seven: 'The client's role in partnering'.
'Internal change process for demand-side clients to replace lowest price tendering with value-based selection'.
'Value-based selection of a fully integrated design and construction supply-side team (or virtual company)'.
Chapter Eight: 'Effective leadership'.
Chapter Nine: 'The buzzwords explained'.
'Further reading and help'
Reviews
For practitioners in partnering, the book will give deeper insight and allow for reflection and comparison with thier own experiences. It is an excellent text for students; they will gain good understanding, and issues arise that should give ideas for research projects.
Building Engineer Feb 2005
Features
* will help reduce risk and increase profits
* practical and easy to read
* tells you what to do differently on Monday