Profiting from the World's Economic Crisis: Finding Investment Opportunities by Tracking Global Market Trends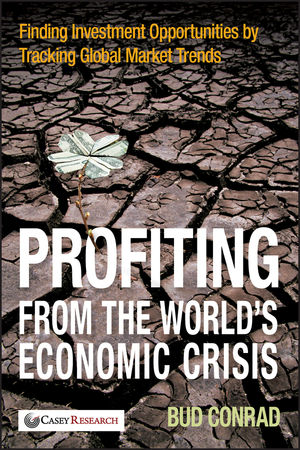 Profiting from the World's Economic Crisis: Finding Investment Opportunities by Tracking Global Market Trends
ISBN: 978-0-470-62744-0
Mar 2010
448 pages
Description
Praise for Profiting From the World's Economic Crisis
"Someone is going to make money in the next decade. Perhaps Bud will help you find your way."
—Jim Rogers, cofounder, Quantum Fund; author, A Gift to My Children
"Where everyone today has an opinion on everything, much of it gleaned from a blog, Bud Conrad's constant mantra is 'What does the data say?' And then he rolls up his sleeves and works almost around the clock for as many days as it takes to get to a defensible answer. In other words, there are those who talk, and those who do. Bud does. In Profiting from the World's Economic Crisis, Bud tells you what the data shows about the risks and opportunities just ahead. You'll want to pay attention."
—David Galland, Managing Editor, The Casey Report
"Bud Conrad's book is a brutally honest journey into the future. Honest because Bud builds on facts, not popular opinion; brutal as he¿illustrates the logical consequences as global dynamics play out. You can't afford not to read this book."
—Axel Merk, President and Chief Investment Officer, Merk Mutual Funds; author, Sustainable Wealth
"This book could not be better timed, as the government and Wall Street do their best to convince the public that the financial storm has passed. Bud Conrad begs to differ and using his unique ability to take complex data and distill it into straightforward charts, he not only explains how the hurricane developed, but why it's far from over. He then goes on to show investors not just how to survive the storm's resurgence, but how to prosper."
—Steve Henningsen, Chief Financial Strategist, The Wealth Conservancy
"Right now you may be asking yourself 'What's going to happen to the economy, why is it happening, and what can I do to profit from it?' As far as I'm concerned, Bud has the correct answers to these questions. Among other things, this book will become 'the' reference book for data and charts that economists and investors will go to for years to come. I urge you to read this book—now—and act on its advice."
—DOUG CASEY, Chairman, Casey Research, bestselling author, Crisis Investing
Acknowledgements.
Introduction.
Part One Economic Forces.
Chapter 1 The Budget Deficit Drives the Growth of All Debt.
Chapter 2 The Trade Deficit and U.S. Dependency on Foreign Investments.
Chapter 3 The Big Costs of Healthcare, Social Security, and the Military.
Part Two Financial Crisis Response.
Chapter 4 The Federal Reserve Prints Our Money (Stop the Presses!).
Chapter 5: The Importance of Debt for Predicting Our Economy.
Chapter 6 The Big-Picture Model of Our Economy.
Part Three Recession or Depression?
Chapter 7 What Can the 1929 Great Depression Teach Us About Today's Crisis?
Chapter 8 What the U.S. Can Learn from Japan's Lost Decade(s): 1989-2009.
Chapter 9 What the U.S. Can Learn from German and Other European Hyperinflations and from China Today.
Part Four Investment Opportunities.
Chapter 10 The Stock Market May Be Dead for Another Decade.
Chapter 11 Energy in the 21st Century: The End of the Petroleum Age.
Chapter 12 Food, Grain Trading.
Chapter 13 The Demise of the Dollar.
Chapter 14 Interest Rates: The Trade of the Decade.
Chapter 15 Gold is the Only Real Money.
Part Five Putting It All Together.
Chapter 16 Forecast for the Future.
Chapter 17 Looking over the Horizon to See the Best Investments.
List of Tables and Figures.
About the Author.
Index.