Profound Deafness and Speech Communication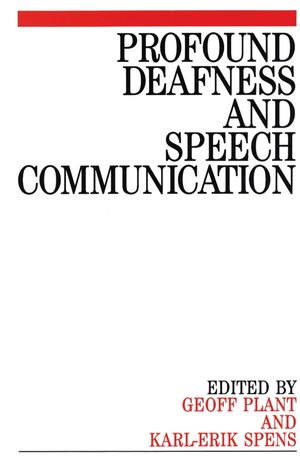 Profound Deafness and Speech Communication
ISBN: 978-1-897-63545-2 January 2006 608 Pages
Download Product Flyer
Download Product Flyer
Download Product Flyer is to download PDF in new tab. This is a dummy description. Download Product Flyer is to download PDF in new tab. This is a dummy description. Download Product Flyer is to download PDF in new tab. This is a dummy description. Download Product Flyer is to download PDF in new tab. This is a dummy description.
Description
Drawing together contributions from a broad selection of internationally recognized experts in the field, this book aims to provide an up-to-date summary of research concerned with speech perception and production in profoundly hearing-impaired children and adults. Following introductory chapters provided by Professor Gunnar Fant of the Department of Speech Communication and Music Acoustics in Stockholm, and Professor Harry Levitt of the City University of New York, the main body of the book is divided into four sections covering tactile aids, cochlear implants, speech perception and speech production.
Table of contents
List of Contributors.
Foreword (Gunnar Fant).
Preface (Geoff Plant and Karl-ERik Spens).
1. Sensory Aids for Deaf People: Past, Present and Future (Harry Levitt).
PART I: TACTILE AIDS.
2. Tactile Aids: A Personal Perspective (James M. Pickett).
3. Tactiling and Tactile Aids: A User's Viewpoint (Gustaf Soderlund).
4. Tadoma: An Overview of Research (Charlotte M. Reed).
5. Design Fundamentals for Eletrotactile Devices. The Tickle Talker Case Study (Robert S.C. Cowan, Karyn L. Galvin, Peter J. Blamey and Julia Z. Sarant).
6. Education of Deaf Children with Tactual Aids: The Miami Experience (D. Kimbrough Oller, Kathleen Vergara and Rebecca E. Eilers).
7. Tactile Aid Usage in Young Deaf Children (Adele Proctor).
8. Toward Future Tactile Aids (Lynne E. Bernstein).
PART II: COCHLEAR IMPLANTS.
9. Cochlear Implants: Historical Perspectives (Graeme M. Clark).
10. The Cochlear Implant: A Weapon to Destroy Deafness or a Support for Lipreading?: A Personal View (Anita Wallin).
11. Speech Perception and Production Skills in Children with Cochlear Implants (Mary Joe Osberger).
12. Speech Perception for Adults Using Cochlear Implants, (Richard C. Dowell).
13. Speech Production by Adults Using Cochlear Implants (David House).
PART III: SPEECH PERCEPTION AND TESTING.
14. Speech Related to Pure Tone Audiograms (Gunnar Fant).
15. What Makes a Good Speech Test? (Harvey Dillon and Teresa Ching).
16. Speech Perception Tests and Heating-impaired Children (Arthur Boothroyd).
17. Speech Perception Tests for Use with Australian Children (Geoff Plant).
18. What Makes a Skilled Speechreader? (Jerker Ronnberg).
19. Evaluation of Speech Tracking Results: Some Numerical Considerations and Examples (Karl-Erik Spens).
PART IV: SPEECH PRODUCTION.
20. Principles for a Complete Description of the Phonological System of Deaf Children as a Basis for Speech Training (Anne-Marie Oster).
21. The Use of Sensory Aids for Teaching Speech to Children who are Deaf (James Mahshie).
22. Speech Pattern Elements in Assessment, Training and Prosthetic Provision (Adrian Fourcin and Evelyn Abberton).
23. Speakers and Hearers are People: Reflections on Speech Deterioration as a Consequence of Acquired Deafness (Roddy Cowie and Ellen Douglas-Cowie).
24. Speech Visualization System as a Basis for Speech Training and Communication Aids (Akira Wartanabe).
PART V: COMPUTER-BASED TRAINING.
25. A Multi-media Program for Exercising the Basics in Lipreading, Cued Speech and Sign Language Vocabulary (Birgit Cook).
26. Computer-assisted Interactive Video Methods for Speechreading Instruction: A Review (Donald G. Sims and Linda Gottermeier).
Index.