Prognostic Factors in Cancer, 3rd Edition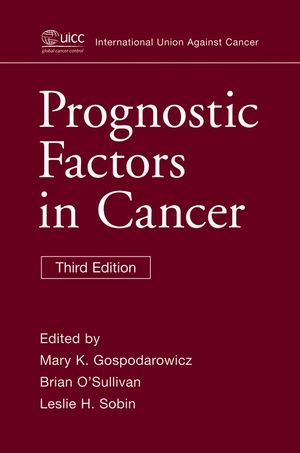 Prognostic Factors in Cancer, 3rd Edition
ISBN: 978-0-470-03801-7 June 2006 353 Pages
Download Product Flyer
Download Product Flyer
Download Product Flyer is to download PDF in new tab. This is a dummy description. Download Product Flyer is to download PDF in new tab. This is a dummy description. Download Product Flyer is to download PDF in new tab. This is a dummy description. Download Product Flyer is to download PDF in new tab. This is a dummy description.
Description
Prognostic Factors in Cancer, Third Edition
examines the prognostic factors associated with each cancer site and provides insight into potential treatments and therapies. The text is an extension of the International Union Against Cancer's (UICC) seminal work, the TNM Classification of Malignant Tumours, and integrates the current focus on prognostics in cancer.
This Third Edition reflects the advances in cancer diagnosis and treatment planning made in recent years. The first part of the book offers a complete update on the science of cancer prognosis while the second part contains site-specific chapters that provide evidence-based guidelines for treatment. Each clinical chapter summarizes the significance of the great variety of tumour-related, patient-related, and environment-related factors that play a role in the prognosis of cancer, all backed with a grid for quick reference.
Visit TNM Online at: www.mrw.interscience.wiley.com/tnm to find the complete text of the previous edition of Prognostic Factors in Cancer, as well as other supplemental material related to cancer staging and predictive indicators.
Prognostic Factors in Cancer, Third Edition is an invaluable resource for all oncologists and cancer researchers. The title is also of interest for other professionals such as pathologists and epidemiologists.
Cannot be combined with any other offers.
Original Price:$247.25
Purchased together:$185.44
save $61.81
Table of contents
Preface. Acknowledgements. Contributors.
PART A. PRINCIPLES OF PROGNOSTIC FACTORS.
1. The Importance of Prognosis in Cancer Medicine (William Mackillop). 2. Principles of Documenting Prognosis and Prognostic Factors in Cancewr (Mary Gospodarowicz, Brian O'Sullivan and Eng-Siew Koh). 3. Studies Investigating Prognostic Factors: Conduct and Evaluation (Douglas Altman). 4. Prognostic Factors in Population Based Cancer Control (Patti Groome). 5. Prognostic Factors in Terminal Cancer (Paul Glare). 6. Incorporating Molecular Oncology into Prognosis (Geoffrey Liu, Wei Zhou, Zhaoxi Wang and Howard McLeod).
PART B. PROGNOSTIC FACTORS IN SPECIFIC CANCERS.
SECTION 1. HEAD AND NECK TUMORS (BRIAN O'SULLIVAN).
7. Oral Cavity, Pharynx, and Larynx Cancer (Jean Bourhis). 8. Paranasal Sinus Cancer (John Waldron). 9. Nasopharyngeal Cancer (Joseph wee and Eng Huat Tan). 10. Salivary Gland Cancer (Adam Garden). 11. Thyroid Cancer (James Brierley and Sylvia Asa).
SECTION 2. DIGESTIVE SYSTEM TUMORS (FREDERICK GREENE AND CHRISTIAN WITTEKIND).
12. Esophagus Cancer (Hubert J. Stein). 13. Gastric Cancer (Burkhand von Rahden). 14. Colorectal Cancer (JHJM van Krieken and Cornelis van de Velde). 15. Anal cancer (Bernard Cummings). 16. Hepatocellular Cancer (Philip Johnson and Daniel Palmer). 17. Extrahepatic Biliary Tract and the Ampulla of Vater Cancers (Christian Wittekind). 18. Pancreas Cancer (John Neoptolemos and Paula Ghaneh).
SECTION 3. LUNG AND PLEURAL TUMORS (CHRISTIAN WITTEKIND AND PATTI GROOME).
19. Lung Cancer (Michael Brundage and William Mackillop). 20. Malignant Pleural Mesothelioma (Richard Battafarano and N. K. Veeramachaneni). 21. Malignant Thymoma (Andrea Bezjak and David G. Payne).
SECTION 4. TUMORS OF BONE AND SOFT TISSUES (BRIAN O'SULLIAN).
22. Osteosarcoma (Henrik C. F. Bauer). 23. Soft Tissue Sarcoma (Charles Catton and Brian O'Sullivan). 24. Gastrointestinal Stromal Tumors (Jaap Verweij and Stefan Sleijfer).
SECTION 5. SKIN TUMORS (LESLIE SOBIN).
25. Skin Cancer (Michael Poulsen). 26. Cutaneous Malignant Melanoma (Peter J. Heenan and Trevor Beer).
SECTION 6. BREAST CANCER (FREDERICK GREENE).
27. Breast Cancer (Daniel F. Hayes).
SECTION 7. GYNECOLOGIC CANCERS (MARY GOSPODAROWICZ).
28. Vulvar Cancer (Neville Hacker and Donald Marsden). 29. Uterine Cervix Cancer (Jan Hauspy, Ian Harley and Anthony Fyles). 30. Ovarian and Fallopian TubeCancer (Sergio Pecorelli, Brunella Pasinetti, Giancarlo, Lucia Zigliani and Franco E. Odicino). 31. Endometrial Cancer (Michael Milosevi and Fernanda Herrera). 32. Gestational Trophoblastic Disease (Hextan Ngan, Karen K.L. Chan and Kevin F. Tan).
SECTION 8. UROLOGICAL TUMORS (MARY GOSPODAROWICZ).
33. Penile Cancer (Simon Horenblas and Juanita Crook). 34. Prostate cancer (Louis Denis and Padraig Warde). 35. Germ Cell Tests Tumors (Hans-Joachim Schmoll and Peter Chung). 36. Renal Cell Cancer (Christophe Ghysel, Steven Joniau and Heindrik Van Poppel). 37. Bladder cancer (Adrian van der Meijden and Richard Sylvester).
SECTION 9. OPHTHALMIC TUMORS (LES SOBIN).
38. Uveal Melanoma Tumors (Jerry Shields and Carol Shields). 39. Retinoblastoma (Vikas Khetan, Helen S. L. Chan, Lisa Wang and Brenda L. Gallie).
SECTION 10. HEMATOLOGIC MALIGNANCIES (MARY GOSPODAROWICZ).
40. Hodgkin Lymphoma (
Lena
Specht). 41. Non-Hodgkin Lymphoma (M. Gospodarowicz, M. Crump and E. Zucca). 42. Leukemia (Mark Minden, P. Disperati, F. Suarez-Saiz and H. Khoury). 43. Multiple Myeloma (Jesus San Miguel and Norma C. Guti43. Multiple Myeloma (Jesus San Miguel and Norma C. Gutierrez).
SECTION 11. BRAIN TUMORS (BRIAN O'SULLIVAN).
44. Gliomas (Michael Brada, Paul Kleihues, Guiseppe Minniti and Hiroko Ohgaki).
SECTION 12. PEDIATRIC TUMORS (FREDERICK GREENE).
45. Pediatric Cancers (Eric Bouffet, David C. Hodgson and Eng-Siew Koh). Epilogue. Glossary. Index.
Reviews
"Recommended for the medical profession[al] dealing with cancer patients." (
E-STREAMS
, June 2007)
"This is a well organized and…comprehensive book…a quick reference that brings together state-of-the-art knowledge for numerous tumor types." (Doody's Health Services)
"…one of only textbooks of its kind to focus on the clinical methodology for evaluating prognostic factors in order to arrive at humane and effective treatments for the cancer-sick patient." (Electric Review, September/October 2006)