Programming Interviews Exposed: Secrets to Landing Your Next Job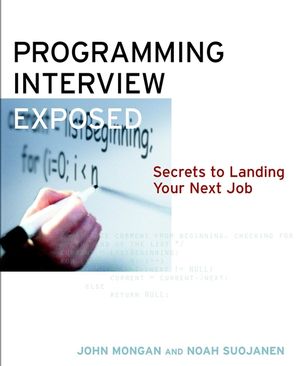 Programming Interviews Exposed: Secrets to Landing Your Next Job
ISBN: 978-0-471-38356-7
May 2000
272 pages
Product not available for purchase
Description
Everything you need to know to survive the programmer's interview and get the job you wantWhether you are a veteran programmer seeking a new position, or a whiz-kid starting your first job search, interviewing for a programming job requires special preparation. The interviewer will present you with several challenging programming problems, and give you an hour or so to find the most elegant and economical solutions while being watched the entire time. This helpful guide will give you the tools necessary to breeze through the test and make a lasting impression that will land you the job! Readers will learn how to ask effective questions, how to decide what language to code in, and how to choose the best approach to solving a problem. Included are 50 interview problems and in-depth analysis of the possible solutions.
The Job Application Process.
Approaches to Programming Problems.
Linked Lists.
Trees and Graphs.
Arrays and Strings.
Recursion.
Other Programming Topics.
Counting, Measuring, and Ordering Puzzles.
Graphical and Spatial Puzzles.
Knowledge-Based Questions.
Non-Technical Questions.
Appendix.
Index.
Although designed for computer science undergraduates, this odd but intriguing book will find a broader readership because of its interesting discussion of problems and solutions. The author, both veteran programmers, based this work on questions they were asked during interviews with big league companies. About 22 pages cover social etiquette and dress and about 220 pages deal with solving programming queries that interviewers pose, from linked lists and tree navigation to sorting and recursion; highly recommended for all college, university, and large public libraries.