Progress and Future Directions in Evaluation: Perspectives on Theory, Practice, and Methods: New Directions for Evaluation, Number 76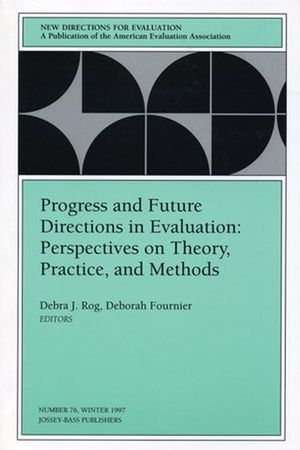 Progress and Future Directions in Evaluation: Perspectives on Theory, Practice, and Methods: New Directions for Evaluation, Number 76
ISBN: 978-0-787-93955-7 January 1997 Jossey-Bass 111 Pages
Description
Last year, the American Evaluation Association celebrated its tenth anniversary. The annual conference, held in November 1996 and entitled AEA: A Decade of Progress, Looking Back and Looking Forward, provided an opportunity to review the history and status of the field of evaluation and chart future directions. For this volume, we have selected a broad sampling of papers from this conference to offer the reader an array of perspectives on where the field has been and where it should be going. The seven authors, all seasoned evaluators, collectively provide a review of the development of evaluation and offer perspective on its current status and its future directions. Among the several themes noted, one cross-cutting theme emerges as a guiding beacon for the future. Evaluators, whether conducting a single study or a set of studies, are contributing to a broader enterprise. In doing so, we must be more cognizant of our responsibility to design and implement our studies with this broader contribution in mind. This is the 76th issue of the quarterly journal New Directions for Evaluation.
Table of contents
1. What Can You Build with Thousands of Bricks? Musings on the Cumulation of Knowledge in Program Evaluation (Mark W. Lipsey).
2. The Landscape of Values in Evaluation: Charted Terrain and Unexplored Territory (Thomas A. Schwandt).
3. Theory-Based Evaluation: Past, Present, and Future (Carol H. Weiss).
4. Advances in Quantitative Evaluation, 1987-1996 (Peter H. Rossi).
5. Case Study Evaluations: A Decade of Progress? (Robert K. Yin).
6. Learning About Welfare Reform: Lessons from State-Based Evaluations (Judith M. Gueron).
7. Clarifying Goals, Reporting Results (Joseph S. Wholey).