Progress in Inorganic Chemistry, Volume 43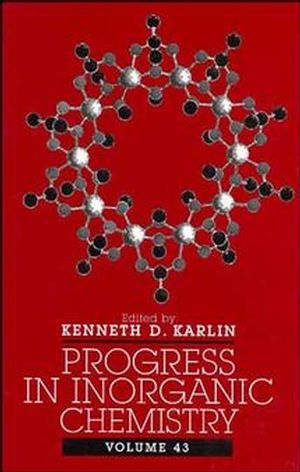 Progress in Inorganic Chemistry, Volume 43
ISBN: 978-0-470-16701-4
Sep 2009
592 pages
Description
Cutting-edge research and innovative science...

PROGRESS in Inorganic Chemistry

Hailed by professional chemists as an index of the most influential and current research being done in inorganic chemistry, Progress in Inorganic Chemistry has also enjoyed the reputation as an indispensable working reference. Featuring the work of internationally renowned chemists, this newest volume provides a clear, authoritative examination of each critical new advance and innovative development in inorganic chemistry today.

"This series is distinguished not only by its scope and breadth, but also by the depth and quality of the reviews."--Journal of the American Chemical Society

"This series is a valuable addition to the library of the practicing research chemist, and is a good starting point for students wishing to understand modern inorganic chemistry."--Canadian Chemical News

"[This series] has won a deservedly honored place on the bookshelf of the chemist attempting to keep afloat in the torrent of original papers on inorganic chemistry."--Chemistry in Britain

CONTENTS OF VOLUME 43
* Oxovanadium and Oxomolybdenum Clusters and Solids Incorporating Oxygen-Donor Ligands (M. Ishaque Kahn, Illinois Institute of Technology, and Jon Zubieta, Syracuse University)
* The Application of Polychalcogenide Salts to the Exploratory Synthesis of Solid State Multinary Chalcogenides at Intermediate Temperatures (Mercouri G. Kanatzidis and Anthony C. Sutorik, Michigan State University)
* Mechanistic and Kinetic Aspects of Transition Metal Oxygen Chemistry (Andreja Bakac, Iowa State University)
* The Chemistry of Metal Complexes with Selenolate and Tellurolate Ligands (John Arnold, University of California, Berkeley)
* Coordination Chemistry with Sterically Hindered Hydrotris (pyrazolyl) borate Ligands: Organometallic and Bioinorganic Perspectives (Nobumasa Kitajima, Tokyo Institute of Technology, and William B. Tolman, University of Minnesota)
* Metal Complexes of Calixarenes (D. Max Roundhill, Tulane University)
Oxovanadium and Oxomolybdenum Clusters and Solids Incorporating Oxygen-Donor Ligands (M. Kahn & J. Zubieta).

The Application of Polychalcogenide Salts to the Exploratory Synthesis of Solid State Multinary Chalcogenides at Intermediate Temperatures (M. Kanatzidis & A. Sutorik).

Mechanistic and Kinetic Aspects of Transition Metal Oxygen Chemistry (A. Bakac).

The Chemistry of Metal Complexes with Selenolate and Tellurolate Ligands (J. Arnold).

Coordination Chemistry with Sterically Hindered Hydrotris(pyrazolyl)borate Ligands: Organometallic and Bioinorganic Perspectives (N. Kitajima & W. Tolman).

Metal Complexes of Calixarenes (D. Roundhill).

Indexes.