Progress in Inorganic Chemistry, Volume 51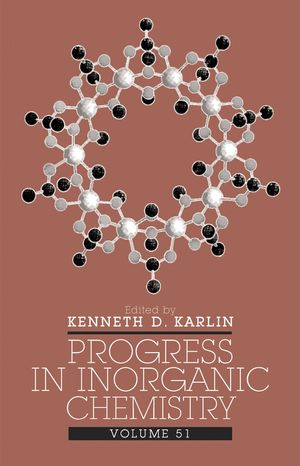 Progress in Inorganic Chemistry, Volume 51
ISBN: 978-0-471-26534-4 November 2002 648 Pages
Description
Progress in Inorganic Chemistry continues in its tradition of being the most respected forum for exchanging innovative research. This series provides inorganic chemists and materials scientists with a community where critical, authoritative evaluations of advances in every area of the discipline are exchanged. With contributions from internationally renowned chemists, this latest volume offers an in-depth, far-ranging examination of the changing face of the field, providing a tantalizing glimpse of the emerging state of the science.
Table of contents
Chapter 1: Fundamental Coordination Chemistry, Environmental Chemistry, and Biochemistry of Lead(II) (Elizabeth S. Claudio, Hilary Arnold Goldwin, and John S. Magyar).

Chapter 2: Chromium in Biology: Toxicology and Nutritional Aspects (Aviva Levina, Rachel Codd, Carolyn T. Dillon, and Peter A. Lay).

Chapter 3: Laterally Nonsymmetric Aza-Cryptands (Parimal K. Bharadwaj).

Chapter 4: Coordination Complexes in Sol-Gel Silica Materials (Stephen P. Watton, Colleen M. Taylor, Grant M. Kloster, and Stephanie C. Bowman).

Chapter 5: Crystal Chemistry of Organically Templated Vanadium Phosphates and Organophosphonates (Robert C. Finn, Robert C. Haushalter, and Jon Zubieta).

Subject Index.

Cumulative Index, Volumes 1-51.
Reviews
"...excellent collection of reviews..." (Journal of the American Chemical Society, Vol. 125, Vol. 31)