Progress in Physical Organic Chemistry, Volume 18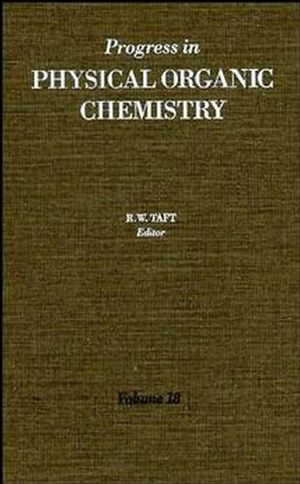 Progress in Physical Organic Chemistry, Volume 18
ISBN: 978-0-470-17218-6 September 2009 306 Pages
Description
Progress in Physical Organic Chemistry is dedicated to reviewing the latest investigations into organic chemistry that use quantitative and mathematical methods. These reviews help readers understand the importance of individual discoveries and what they mean to the field as a whole. Moreover, the authors, leading experts in their fields, offer unique and thought-provoking perspectives on the current state of the science and its future directions. With so many new findings published in a broad range of journals, Progress in Physical Organic Chemistry fills the need for a central resource that presents, analyzes, and contextualizes the major advances in the field.
The articles published in Progress in Physical Organic Chemistry are not only of interest to scientists working in physical organic chemistry, but also scientists working in the many subdisciplines of chemistry in which physical organic chemistry approaches are now applied, such as biochemistry, pharmaceutical chemistry, and materials and polymer science. Among the topics explored in this series are reaction mechanisms; reactive intermediates; combinatorial strategies; novel structures; spectroscopy; chemistry at interfaces; stereochemistry; conformational analysis; quantum chemical studies; structure-reactivity relationships; solvent, isotope and solid-state effects; long-lived charged, sextet or open-shell species; magnetic, non-linear optical and conducting molecules; and molecular recognition.
Table of contents
Free-Energy Relationships in Strongly Conjugated Substituents: The Polymethine Approach (S. Dähne & K. Hoffman).
Estimation of the Basicity Constants of Weak Bases by the Target Testing Method of Factor Analysis (U. Haldna).
Application of Principal Component Analysis in Organic Chemistry (R. Zalewski).
Physicochemical Preconditions of Linear Free-Energy Relationships (O. Exner).
The Quantitative Description of Amino Acid, Peptide and Protein Properties and Bioactivities (M. Charton).
Author Index.
Subject Index.
Cumulative Index, Volumes 1-18.