Progressive Foreign Policy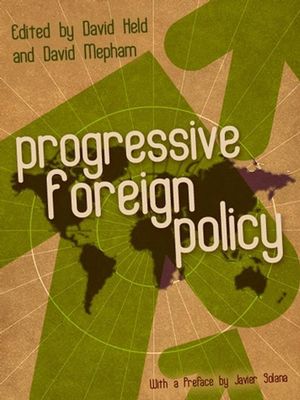 Progressive Foreign Policy
ISBN: 978-0-745-64115-7
Oct 2007, Polity
272 pages
Description
In May 1997, the then UK Foreign Secretary, Robin Cook, famously said that foreign policy should have 'an ethical dimension', and that the Labour Government would 'put human rights at the heart of foreign policy'. Although not described in these terms, these assertions were an attempt to articulate a 'progressive' conception of foreign policy for the UK.

But how does the foreign policy record of the Labour Government stand when set against these declared principles? What role have ethics really played in Labour's foreign policy? Why has Labour been so interventionist, from Kosovo to Iraq? What does this record tell us about the limits and the possibilities of progressive foreign policy? What does it tell us about the strengths and failures of Labour's foreign policy?

This timely book, published in association with the Institute for Public Policy Research and the Centre for Global Governance at the LSE, addresses these questions and provides an appraisal of Labour's record in power. However, the book also looks forward. It provides a novel assessment of the international trends that will shape the global context of UK foreign policy. The contributors set out new perspectives and policy options in respect of international security, democracy, justice, human rights, and sustainability. In addition, the book offers fresh thinking on the UK's relationship with key countries and regions, from the US to Europe, from the Middle East to China. Moreover, it suggests a radical new approach to global governance and to the way in which the UK makes and implements foreign policy.

At a time of real flux in UK domestic politics and of rapid change in international politics, this book is an indispensable guide to the UK's foreign policy options and to the prospects and possibilities of a more values-driven and effective UK foreign policy.
Acknowledgements
Preface
Introduction
David Held and David Mepham
Chapter 1 – Rethinking security and power
Michael Clarke
Chapter 2 - Deepening democracy
Mary Kaldor
Chapter 3 - Human rights, justice and security
David Mepham
Chapter 4 – Development and equity
Kevin Watkins
Chapter 5 - Sustainability and foreign policy
Nick Mabey
Chapter 6 - Recasting the special relationship
Andrew Gamble and Ian Kearns
Chapter 7 - Europe's global role
Charles Grant
Chapter 8 – The Middle East: a new agenda for UK policy
David Mepham
Chapter 9 – Looking East: the rise of China
Steve Tsang
Chapter 10 – Multilateralism and Global Governance: accountability and effectiveness
David Held
Chapter 11 – Global economic governance: a programme for reform
Ngaire Woods
Chapter 12 – Redesigning UK foreign policy
Leni Wild and Paul D. Williams
"That the book unites leading academic specialists and policy experts from non-governmental organisations is a major attraction. Let us hope the activities of this broad coalition are sustained; foreign policy is too important to be left to politicians and civil servants."
Tim Dunne, Times Higher Education Supplement
"A valuable addition to the debate about the future of UK foreign policy."
International Affairs
"Offers fresh thinking on the UK's relationship with key countries and regions, from the US to Europe, from the Middle East to China."
Development Resources Review (OXFAM)
"Thought-provoking ... a well-written and accessible broad overview of foreign policy under Blair's premiership ... students of international relations and of politics, both at undergraduate and postgraduate level, would find this worth a read."
Political Studies Review
"This century will be shaped by the choice between a world that looks outwards, embraces multilateralism and seeks to shape globalization in the interests of social justice, or a world in which isolation, protectionism and narrow nationalism hold sway. This book is an important contribution to the question of how we build a safer, fairer world."
Rt Hon. Hilary Benn, UK Secretary of State for the Environment
"This is an important, enlightened but measured assessment of the failings of British foreign policy that led to the debacle of Iraq. It also helps to chart a more progressive course for the future."
John Kampfner, Editor of the New Statesman


timely edited collection published with the Institute for Public Policy Research and the Centre for Global Governance at the LSE

Contributions from leading figures such as Michael Clarke, Mary Kaldor, Ngaire Woods and Andrew Gamble

assesses Labour's foreign policy record and creates a new agenda for the future

sets out new perspectives and policy options in respect of international security, democracy, justice, human rights, and sustainability

offers fresh thinking on the UK's relationship with key countries and regions, from the US to Europe, from the Middle East to China

an indispensable guide to the UK's foreign policy options and to the prospects and possibilities of a more values-driven and effective UK foreign policy