Project+ Study Guide: Exam PK0-002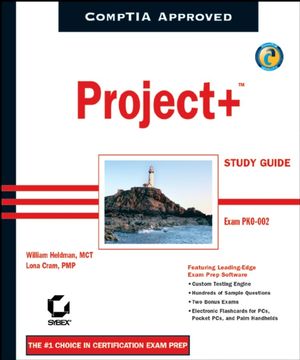 Description
Here's the book you need to prepare for the latest version of CompTIA's Project+ exam. This Study Guide was developed to meet the exacting requirements of today's certification candidates. In addition to the consistent and accessible instructional approach that has earned Sybex the "Best Study Guide" designation in the 2003 CertCities Readers Choice Awards, this book provides:
Clear and concise information on project management
Practical examples and insights drawn from real-world experience
Leading-edge exam preparation software, including a test engine and electronic flashcards
You'll also find authoritative coverage of key exam topics, including:
Project Initiation and Scope Definition
Project Planning
Project Execution, Control and Coordination
Project Closure, Acceptance and Support
This book has been reviewed and approved as CompTIA Authorized Quality Curriculum (CAQC). Students derive a number of important study advantages with CAQC materials, including coverage of all exam objectives, implementation of important instructional design principles, and instructional reviews that help students assess their learning comprehension and readiness for the exam.
Note:CD-ROM/DVD and other supplementary materials are not included as part of eBook file.
Introduction.
Assessment Test.
Chapter 1: IT Project Management Overview.
Chapter 2: Project Initiation.
Chapter 3: Scope Planning.
Chapter 4: Schedule Planning.
Chapter 5: Cost Planning.
Chapter 6: Other Planning Processes.
Chapter 7: Comprehensive Project Plan.
Chapter 8: Project Execution.
Chapter 9: Project Control.
Chapter 10: Project Closure.
Appendix A: Systems Development Life Cycle.
Appendix B: Standard IT Project Documents.
Glossary.
Index.
Download Templates
Download a .zip file with the templates from the book.
To uncompress the file, Windows users can use Windows built-in ZIP utilities or a 3rd party utility like WinZip or WinRAR. Macintosh users can simply double-click the downloaded file to extract using the built-in archive utility.
Download
Chapter
Page
Details
Date
Print Run
Combined Errata


Page 2

paragraph 1, same text "...and many employers loofor evidence of..." should read paragraph 1, same text "...and many employers look for evidence of..."

Page 129

Review Questions: The diagrams under Question 19 and 20 are switched. The diagram shown in Question 19 should be shown in Question 20, and the diagram shown in Question 20 should be shown in Question 19.




---