Project Arcade: Build Your Own Arcade Machine, 2nd Edition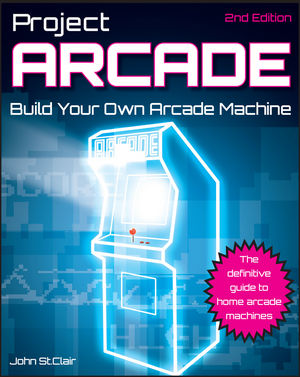 Project Arcade: Build Your Own Arcade Machine, 2nd Edition
ISBN: 978-1-118-03883-3
Jan 2011
552 pages
Description
The bestseller returns—completely updated to include the newest hardware, software, and techniques for building your own arcade
Interest in classical arcade games remains on the rise, and with a little money, older computer hardware, and a little effort, you can relive your arcade experiences by building your own arcade machine. The hands-on guide begins with a description of the various types of projects that you can undertake. It then progresses to a review of the audio and video options that are available and looks at the selection of game software and cabinet artwork. Ultimately, you'll learn essential troubleshooting tips and discover how to build arcade controllers and machines that you can enjoy at home with your PC.
Serves as a soup-to-nuts guide for building your own arcade machine, from the sheets of wood to the finished product
Addresses the variety of arcade controls, including joysticks, buttons, spinners, trackballs, flight yokes, and guns
Explains how to interface arcade controls to a computer
Shares troubleshooting tips as well as online resources for help and inspiration
Project Arcade, Second Edition helps you recapture the enjoyment of your youth that was spent playing arcade games by walking you through the exciting endeavor of building your own full arcade machine.
Introduction.
Part I Playing Your Games the Way They Are Meant to Be Played — with Arcade Controls.
Chapter 1 Picking Your Path to Game-Playing Nirvana.
Chapter 2 Building Your Arcade Cabinet.
Part II Designing and Building Your Dream Arcade Control Panel.
Chapter 3 Pushing Your Buttons and the Joy of Joysticks.
Chapter 4 Taking Your Game Out for a Spin — Spinners and Trackballs.
Chapter 5 Arcade Controls for Power Gamers.
Chapter 6 Building the Control Panel.
Part III Hooking Things Up Under the Hood — Time to Trick the Computer.
Chapter 7 How It Works — Turning a Computer into the Brains of an Arcade Machine.
Chapter 8 Using the Keyboard Connector for Arcade Controls.
Chapter 9 Arcade Controls Using the Mouse Connector.
Chapter 10 Miscellaneous Bits of Arcade Trickery.
Part IV Putting Together the Final Pieces.
Chapter 11 Audio — Silence Isn't Golden.
Chapter 12 A Picture Is Worth a Thousand . . . Tokens?
Chapter 13 A Picture Is Worth a Thousand . . . Tokens?
Chapter 14 Choosing and Loading Software.
Chapter 15 Buttoning Up the Odds and Ends.
Part V Like the Concept but Not Sure You Have It in You?
Chapter 16 Stuck? Frustrated? Out of Quarters?
Chapter 17 Buying Your Way to Gaming Nirvana.
Chapter 18 Online Places to Go.
Appendix A Where to Find Arcade Parts for Your Project.
Appendix B The Great Debate — Preserving Versus MAMEing the Past.
Appendix C What's on the CD?
Index.