Project Management: A Managerial Approach, 8th Edition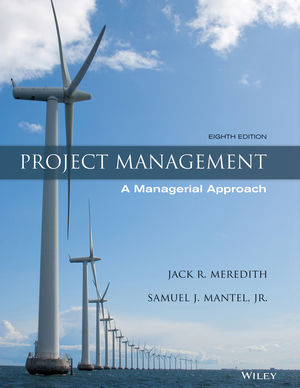 Project Management: A Managerial Approach, 8th Edition
ISBN: 978-0-470-53302-4
Aug 2011
600 pages
Product not available for purchase
Description
As the use of project management to accomplish organizational goals continues to grow, skills related to understanding human behavior, evaluating organizational issues, and using quantitative methods are all necessary for successful project management.

Meredith and Mantel have drawn from experiences in the workplace to develop a text that teaches the reader how to build skills necessary for selecting, initiating, operating, and controlling all types of projects.
Chapter 1 Projects in Contemporary Organizations 1
Chapter 2 Strategic Management and Project Selection 41
Chapter 3 The Project Manager 101
Chapter 4 Managing Conflict and the Art of Negotiation 145
Chapter 5 The Project in the Organizational Structure 175
Chapter 6 Project Activity and Risk Planning 221
Chapter 7 Budgeting : Estimating Costs and Risks 285
Chapter 8 Scheduling 335
Chapter 9 Resource Allocation 387
Chapter 10 Monitoring and Information Systems 437
Chapter 11 Project Control 475
Chapter 12 Project Auditing 521
Chapter 13 Project Termination 551
Photo and Copyright Credits 575
Name Index 577
Subject Index 582
• Significantly Revised Chapter 6: The chapter, now titled Project Activity and Risk Planning, combines most of the risk discussion and techniques into a single chapter.
• Simulating Costs with Crystal Ball: Discussion of simulating costs with Crystal Ball has been moved from Chapter 2 to Chapter 7 in order to give the student more time to process the subject.
• PMBOK Coverage: Increased discussion of Project Management Body of Knowledge (PMBOK) and identification of where in PMBOK certain topics are covered.

• The Project Life Cycle: Remains the primary organizational guideline of the book.
• Crystal Ball Software: A registration card is packaged with the text, giving students access to a free 140-day trial edition of Crystal Ball. Schools adopting the text also can obtain access to the full version of Microsoft Project through Wiley's MSDNAA partnership.
• Change Management: The task of the project manager to handle change is introduced throughout the text with references to the organizational, interpersonal, economic, and technical glitches that create crises in the life cycle of every project.