Project Management Handbook, 2nd Edition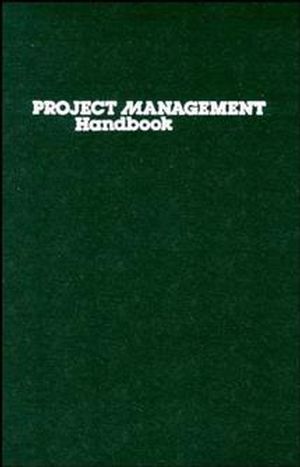 Project Management Handbook, 2nd Edition
ISBN: 978-0-471-29384-2
Aug 1988
1008 pages
Description
The fundamentals of project management, from planning to control
Project management has become an increasingly important role in modern organizations. Project Management Handbook provides clear guidance on all aspects of the field to give new and experienced project managers deeper insight into the extent and influence of their role. From planning and strategy, through implementation, control, and beyond, this invaluable resource offers detailed information for every stage in the project life cycle. As more and more organizations adopt a project management approach to everyday operations, this book becomes a key resource for everyone with a supervisory role.
Partial table of contents:

OVERVIEW OF PROJECT AND MATRIX MANAGEMENT.

Managing Project Interfaces--Key Points for Project Success (P. Morris).

THE PROJECT ORGANIZATION.

Organizing the Project Office and Project Team: Duties of Project Participants (R. Archibald).

ORGANIZATIONAL STRATEGY AND PROJECT MANAGEMENT.

Selecting Projects that Maximize Profits (W. Souder).

LIFE-CYCLE MANAGEMENT.

Life-Cycle Management (W. King & D. Cleland).

PROJECT PLANNING.

Project Stakeholder Management (D. Cleland).

Pricing Out the Work (H. Kerzner).

PROJECT IMPLEMENTATION.

The Legal Standards for Prudent and Efficient Project Management (R. Speck).

PROJECT CONTROL.

Development and Implementation of Project Management Systems (J. Tuman).

BEHAVIORAL DIMENSIONS AND TEAMWORK IN PROJECT MANAGEMENT.

Teamwork -
Key to Managing Change (T. Miller).

THE SUCCESSFUL APPLICATION OF PROJECT MANAGEMENT.

Health Project Management in an Occupational Setting (L. Leviton & G. MacLeod).

Index.