Project Management for Business Professionals: A Comprehensive Guide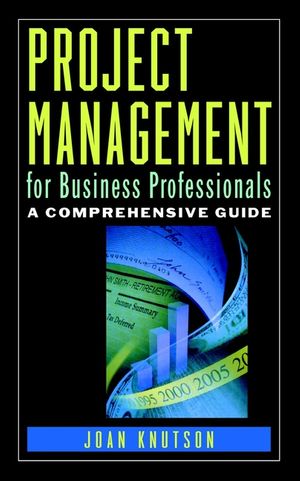 Project Management for Business Professionals: A Comprehensive Guide
ISBN: 978-0-471-03875-7
Mar 2002
624 pages
Description
No longer restricted to the engineering industry, project management has at long last crossed over to mainstream business. Project Management for Business Professionals is the definitive reference on the essentials of contemporary project management.

Featured here are some of the foremost practitioners and researchers from academia, consulting, and private industry, sharing their various areas of project management expertise and providing a wide range of perspectives on everything from risk management to resource planning to ethics management.

Focusing on both the technical and human sides of the field, this unique resource follows the main points of the "project management body of knowledge"-the certification standard of the Project Management Institute. The experts address the procedures and processes for planning and managing projects and explore project team/group dynamics, examining the interpersonal relations and the political and organizational considerations that can impact a project.
Acknowledgments.

Preface.

About the Contributors.

INTRODUCTION.

Overview: The Discipline of Project Management (D. Cleland).

Transition: The Project-Driven Organization (J. Knutson).

THE TECHNICAL TRACK.

Portfolio Management: Overview and Best Practices (J. Crawford).

Scope Management: Do All That You Need and Just What You Need (S. Globerson).

Requirements Management: Addressing Customer Needs and Avoiding Scope Creep (J. Frame).

Schedule Management: Seeing the Future by Mapping Out the Present (C. Pritchard).

Accounting and Financial Management: Finding the Project's Bottom Line (F. Toney).

Risk Management: Maximizing the Probability of Success (R. Westney).

Contracts and Procurement Management: Why Should You Care? (R. Mulcahy).

Earned Value Management: An Introduction (J. Koppelman & Q. Fleming).

Information Management: For the Project Manager in an Information Age (M. Hynes).

Project Closeout Management: More Than Simply Saying Good-Bye and Moving On (T. Cooke-Davies).

Multiple Project Management: Responding to the Challenge (J. Nevison).

Process Automation in Project Management: Today (V. Quinn).

Computer-Aided Project Management: Tomorrow (C. Belack).

eBusiness Project Management: The Future Is Today (D. Bienkowski).

THE HUMAN DIMENSIONS TRACK.

Organizational Project Management: Concept (R. Bauhaus).

Creating a Professional Project Management Organization: Design (J. Schneidmuller).

Organizational Deployment of Project Management: The Next Big "Aha" for Corporate Project Leaders (R. Storeygard).

Professional and Personal Development Management: A Practical Approach to Education and Training (R. Wideman & A. Shenhar).

Ethics Management: Are You Really Protected? (C. Daw).

Conflict Management: Opportunity for Relationship Building and Effective Decisions (G. Pitagorsky).

Role Management: The Integrative Roles in Project Management (R. Archibald).

Culturally Diverse Management: A Vital Skill for Managing Global Projects (V. Verma).

Expectations Management: Reconfirming Assumptions (M. Mayer).

Participative Management: Getting the Most from Your Team (P. Martin & K. Tate).

Virtual Team Management: Building a Successful Virtual Team (M. Haywood).

Team Infrastructure Management: Project Team Planning and Project Start-Up (D. Ono & R. Archibald).

Team Management: Working Effectively (H. Thamhain).

CONCLUSION.

Project Management: The Future (J. Pinto).

Index.