Project Risk Management Guidelines: Managing Risk with ISO 31000 and IEC 62198, 2nd Edition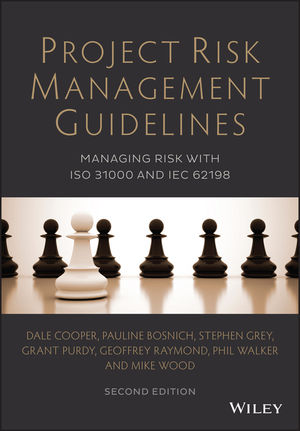 Project Risk Management Guidelines: Managing Risk with ISO 31000 and IEC 62198, 2nd Edition
ISBN: 978-1-118-84936-1
Feb 2015
432 pages
Description
Risk runs through the fabric of any project.  It is so intimately bound up in forecasting and decision making that it cannot be isolated or handled separately from other project management activities.  Success can only be achieved if risk management is integrated closely with project management.
Over the past decade, developments in risk management methods and standards have addressed the need to manage risk in a project in an integrated manner.  This is a more natural way of working than past practices have been.  It has beneficial effects on the practice of risk management and the way it is implemented in projects.
This new edition of Project Risk Management Guidelines has been fully updated to include the new international standards that embody this principle, ISO 31000 Risk management and IEC 62198 Managing risk in projects.  The book explains the standards and how they can be applied.  It provides a clear introduction to basic project risk management, introduces the reader to specialized areas of projects and procurement, and shows how quantitative risk analysis methods can be used in large projects.
Chapter by chapter, the authors present simple, practical steps and illustrate them with examples drawn from their extensive experience from around the world, in many different industry sectors and cultures and at all stages of projects from conception through development and into execution. Qualitative and quantitative approaches are covered. Traditional structures and processes are discussed as well as developments in the way projects are conducted, such as outsourcing arrangements and risk-sharing structures like public–private partnerships.
Improved outcomes can be achieved when sound risk management is used to capture opportunities and reduce threats. Its unique focus and wealth of checklists, tables and other resources make this book an essential and enduring tool for anyone involved with project work.
About the Authors vii
Foreword to the Second Edition xi
Preface xiii
Acknowledgements xv
Introduction to Project Risk Management xvii
Part I Project Risk Management: Principles and Framework 1
Chapter 1 Principles of Effective Project Risk Management 3
Chapter 2 Project Phases and Approval Decisions 9
Chapter 3 Framework for Managing Risk in Projects 23
Part II The Project Risk Management Process 33
Chapter 4 The Approach to Managing Risk in Projects 35
Chapter 5 Communication and Consultation 41
Chapter 6 Establish the Context 49
Chapter 7 Risk Identification 69
Chapter 8 Qualitative Risk Analysis and Risk Evaluation 77
Chapter 9 Semi-Quantitative Risk Assessment for Systems and Sub-Systems 95
Chapter 10 Risk Treatment 105
Chapter 11 Monitoring and Review 117
Chapter 12 Recording and Reporting 123
Chapter 13 Managing Opportunities 129
Chapter 14 Simplifying the Process 141
Part III Quantitative Risk Analysis for Projects 151
Chapter 15 Introduction to Quantification for Project Risks 153
Chapter 16 Cost Risk Assessment 173
Chapter 17 Schedule Risk Analysis 197
Chapter 18 Investment Evaluation for Large Projects 219
Chapter 19 Risk Analysis and Economic Appraisal 241
Part IV Extending the Process 251
Chapter 20 Contracts and Risk Allocation 253
Chapter 21 Case Study: Tender Evaluation 265
Chapter 22 Market Testing and Outsourcing 271
Chapter 23 Public–Private Partnerships and Private Financing 283
Chapter 24 Technical Tools and Techniques 303
Chapter 25 Managing Environment-Related Risks 323
Chapter 26 Climate Change 345
Part V Additional Information and Supporting Material 351
Chapter 27 Other Approaches to Project Risk Management 353
Chapter 28 Risk Management Process Checklist 361
Chapter 29 Worksheets and Evaluation Tables 365
Chapter 30 Examples of Risks and Treatments 381
Glossary 393
References 397
Index 401
Fully updated to include the new international standards, ISO 31000 Risk management and IEC 62198 Managing risk in projects.
Chapter by chapter, the authors present simple, practical steps and illustrate them with examples drawn from their extensive experience from around the world, in many different industry sectors and cultures and at all stages of projects from conception through development and into execution
Covers qualitative and quantitative approaches
Discusses traditional structures and processes as well as developments in the way projects are conducted, such as outsourcing arrangements and risk-sharing structures like public–private partnerships
Features a wealth of checklists, tables and other resources