Projects for a Healthy Planet: Simple Environmental Experiments for Kids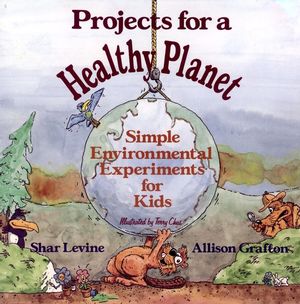 Projects for a Healthy Planet: Simple Environmental Experiments for Kids
ISBN: 978-0-471-55484-4
May 1992, Jossey-Bass
96 pages
Description
Simple and fun activities that inspire understanding and respect for the environment.

Discover what pollution is and what it does
Learn how you can limit pollution through conservation and recycling
Make your own environmentally friendly products
The activities in this book will show you things like how to make scratch-and-sniff paper, how to build your own greenhouse, and how to sprout seeds in old tea bags. Each activity is fun to read and is explained in step-by-step drawings that are easy to follow, and all materials are readily available household items.
SOMETHING'S HAPPENING HERE: POLLUTION AND THE ENVIRONMENT.

Acid Rain.

Ozone.

The Undetectables.

Oil Spills.

Wash Blues.

Breakdown.

What's Eating You?.

WASTE NOT, WANT NOT: CONSERVE, REUSE, RECYCLE.

How Green Is My Greenhouse.

Windpower.

Earth(worm) Day.

Scratch-and-Sniff Papermaking.

Portable Fridge.

Why Should My Window Wear a Coat?.

Tea for Two.

CREATING ENVIRONMENTALLY FRIENDLY PRODUCTS.

No Excuses Soap.

Bubble Bonanza.

Make Fleas Flee.

Mothra's Eating My Clothes.

Hair's Looking at You Kid--Shampoo.

Save a Tree.

List of Organizations to Contact.

Index.