Promiscuous Customers:Invisible Brands: Delivering Value in Digital Markets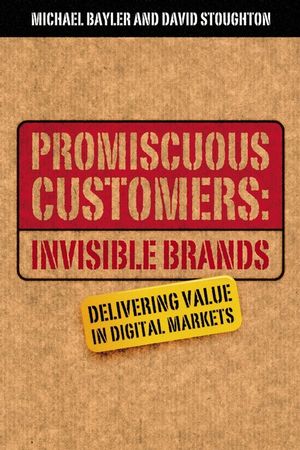 Promiscuous Customers:Invisible Brands: Delivering Value in Digital Markets
ISBN: 978-1-841-12159-8
Dec 2001
280 pages
Description
Phones, TV's, PDA's, watches and even fridges are rapidly taking the place of the PC. Now Europe's proliferating channels and devices - plus its multiple cultures and languages - are writing tomorrow's rules. Part field book, part manifesto, and part behind-the-scenes expose, Promiscuous Customers, Invisible Brands is a practical guide which leads the reader through the cycle of strategy, specification, planning and implementation of an e-business. It balances crisp observation with just-in-time pragmatism, on a solid foundation of value and quality management.

Created by two of Britain's most experienced and visionary strategists, Promiscuous Customers, Invisible Brands provides the insights, the framework and the toolkit for confident, flexible management through the next wave of digital business.

Michael Bayler and David Stoughton are the founders and senior partners of The Value Partnership, the e-business strategy consultancy.
Acknowledgements.

Is This Book For You?

Introduction.

1 The Cold Heart of the Promiscuous Customer.

2 The Paradox of the Invisible Brand.

3 What's Wrong With the Internet?

4 Modes, Purposes and Tasks.

5 Meaning, Trust and Value.

6 Taking Stock.

7 The Marketspace--a New Paradigm for Value.

8 The Key Drivers and Enablers of Marketspaces.

9 Roles and Benefits in Marketspaces.

10 Rules and Relationships in Marketspaces.

11 The Return of Value to Digital Markets.

Index.
"For a readable, thought-provoking and challenging assessment of how to deliver value in digital markets, this is a recommended read." (European Centre for Customer Strategies, 21 February 2002)