Promising Practices in Recruitment, Remediation, and Retention: New Directions for Higher Education, Number 108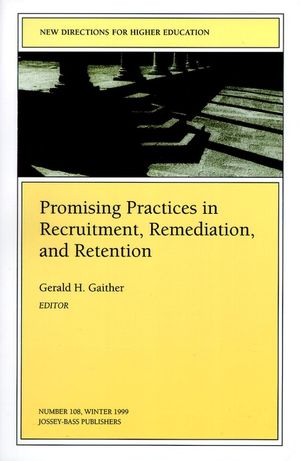 Promising Practices in Recruitment, Remediation, and Retention: New Directions for Higher Education, Number 108
ISBN: 978-0-787-94860-3
Jan 2000, Jossey-Bass
133 pages
Description
Recruitment, remediation, and retention have become high-visibility issues for higher education as these matters receive increased scrutiny from government, the media, and consumers concerned about receiving greater results. This issue identifies the best practices for recruitment, remediation, and retention, describing lessons learned from innovative and successful programs across the nation. The authors show how to adapt these efforts to today's diverse populations and technological possibilities, and they provide a set of practical resources--including Web sites and other electronic tools--to assist practitioners in achieving the goals of their own programs.

This is the 108th issue of the quarterly journal New Directions for Higher Education.
1. Demographic Factors Affecting Higher Education in the United States in the Twenty-First Century (Steve H. Murdock & Md. Nazrul Hoque).
2. Effective Admissions Recruitment (Don Hossler).
3. Strategic Moves for Retention Success (Randi S. Levitz, et al.).
4. Student Retention and Progression: A Special Challenge for Private Historically Black Colleges and Universities (Michael T. Nettles, et al.).
5. Modeled Retention and Graduation Rates: Calculating Expected Retention and Graduation Rates for Multicampus University Systems (Gary Blose).
6. Developmental and Remedial Education in Postsecondary education (Hunter R. Boylan, et al.).
7. Remediation in Texas: A Prototype for National Reform? (Susan R. Griffith & Joseph M. Meyer).
8. What the Future Holds (Gerald H. Gaither).
9. Recruitment, Remediation, and Retention: Suggestions for Further Reading and Research (Anthony J. Adam).