Promoting Health in Children and Young People: The Role of the Nurse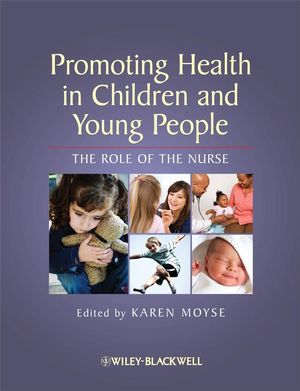 Promoting Health in Children and Young People: The Role of the Nurse
ISBN: 978-1-444-32265-1
Nov 2009, Wiley-Blackwell
432 pages
Description
Promoting the health and wellbeing of children and young people is a vital part of every child nurse's role. Promoting Health in Children and Young People provides practical guidance on everyday health issues such as preventing obesity, dental health, skin care and prevention of diseases and infections. It explores best practice for nursing children with chronic illnesses such as asthma, cancer, diabetes and disabilities, and gives guidance on promoting the health of adolescents looking at issues of sexual health, smoking, drugs and alcohol. Each chapter discusses key health promotion messages, relevant government policy and health promotion activities. This accessible text provides nurses with the skills and knowledge to transform the NSF into everyday health promotion practice.

• Provides a clear skills-based approach to undertaking health promotion practice
• Emphasises the role of the nurse in promoting good health in children and young people
• Discusses guidance from recent policy developments including the National Service Framework for Children
• Illustrated with diagrams and boxes highlighting key points
THEME ONE: FOUNDATIONS OF HEALTH PROMOTION WITH CHILDREN/YOUNG PEOPLE.
Chapter 1: Reducing Health Inequalities.
Chapter 2: Planning for Health Promotion.
Chapter 3: Creativity.
Chapter 4: Government Policy.
THEME TWO: CHILD DEVELOPMENT.
Chapter 5: Child Development.
Chapter 6: Health for All Children.
THEME THREE: EVERYDAY HEALTH ISSUES FOR CHILDREN/YOUNG PEOPLE.
Chapter 7: Preventing Childhood Obesity.
Chapter 8: Dental Health Promotion.
Chapter 9: Skin Cancer Prevention.
Chapter 10: Accident Prevention.
THEME FOUR: PROMOTING HEALTH IN MINOR ILLNESS AND MINOR INJURY.
Chapter 11: Sure Start Community Children's Nursing Service- Developing a Minor Illness/ Injury Service.
Chapter 12: Fever Management in Young Children (0-5 years).
Chapter 13: Health Promotion in Young Children's Minor Illnesses.
Chapter 14: Health Promotion in Minor Injuries.
THEME FIVE: CHILDREN/YOUNG PEOPLE IN HOSPITAL.
Chapter 15: Health Promotion for Pre and Post Operative Care.
Chapter 16: Surgical Wound Healing and Health Promotion.
Chapter 17: Planning Hospital Discharge.
THEME SIX: PROMOTING HEALTH IN CHRONIC ILLNESS.
Chapter 18: Asthma Management.
Chapter 19: Managing Children's Skin Conditions.
Chapter 20: Health Promotion for Children/Young People with Cancer.
Chapter 21: Constipation.
Chapter 22: Health Promotion in Childhood Diabetes.
Chapter 23: Children and Young People with Disabilities and Complex Health Care Needs.
THEME SEVEN: MEDICINES MANAGEMENT.
Chapter 24: Medicines Management.
THEME EIGHT: PAIN MANAGEMENT.
Chapter 25: Pain Management.
THEME NINE: PROMOTING EMOTIONAL HEALTH.
Chapter 26: Baby Massage and Baby Yoga.
Chapter 27: Health Promotion Course: Living with Babies.
Chapter 28: Baby Play.
Chapter 29: Baby Club.
Chapter 30: Positive Parenting.
Chapter 31: Promoting Children's Mental Health- Focus Bullying.
Chapter 32: Safeguarding Children (Health Promotion).
Chapter 33: The Health of Children and Young People in Care.
THEME TEN: TEENAGE HEALTH ISSUES.
Chapter 34: Health Promotion Course- Living with Teenagers.
Chapter 35: Promoting Sexual Health to Young People.
Chapter 36: Preventing and Managing Substance Misuse.
Chapter 37: Smoking Cessation.
THEME ELEVEN: EVALUATING HEALTH PROMOTION.
Chapter 38: Evaluating Health Promotion.
THEME TWELVE: HEALTH PROMOTION IN CONTEXT.
Chapter 39: Health Promotion in Context.
THEME THIRTEEN: NATIONAL PERSPECTIVES.
Chapter 40: National Perspectives


Provides a clear skills-based approach to undertaking health promotion practice

Emphasises the role of the nurse in promoting good health in children and young people

Discusses guidance from recent policy developments including the National Service Framework for Children

Illustrated with diagrams and boxes highlighting key points