Properties of Advanced Semiconductor Materials: GaN, AIN, InN, BN, SiC, SiGe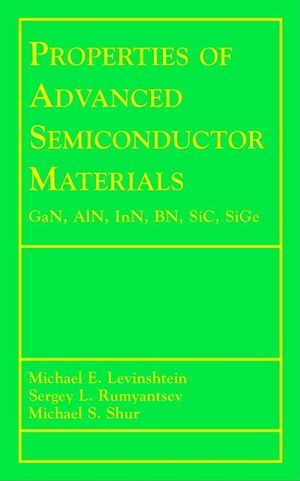 Properties of Advanced Semiconductor Materials: GaN, AIN, InN, BN, SiC, SiGe
ISBN: 978-0-471-35827-5 February 2001 216 Pages
Description
Containing the most reliable parameter values for each of these semiconductor materials, along with applicable references, these data are organized in a structured, logical way for each semiconductor material.
* Reviews traditional semiconductor materials as well as new, advanced semiconductors.
* Essential authoritative handbook on the properties of semiconductor materials.
Contributors.

Preface.

Gallium Nitride (GaN) (V. Bougrov, et al.).

Aluminum Nitride (AIN) (Y. Goldberg).

Indium Nitride (InN) (A. Zubrilov).

Boron Nitride (BN) (S. Rumyantsev, et al.).

Silicon Carbide (SiC) (Y. Goldberg, et al.).

Silicon-Germanium (Si_1-xGe_x) (F. Schäffler).

Appendix 1: Basic Physical Constants.

Appendix 2: Periodic Table of the Elements.

Appendix 3: Rectangular Coordinates for Hexagonal Crystal.

Appendix 4: The First Brillouin Zone for Wurtzite Crystal.

Appendix 5: Zinc Blende Structure.

Appendix 6: The First Brillouin Zone for Zinc Blende Crystal.

Additional References.
"Six contributed chapters describe the key properties of emerging semiconductor materials systems with exciting potential..." (SciTech Book News, Vol. 25, No. 2 June 2001)
"Anyone working with these materials will find the up-to-date information summarized in this handbook extremely useful and handy...this handbook has the potential to become on of the most cited reference books in upcoming years." (MRS Bulletin, September 2001)