Prostitution and Feminism: Towards a Politics of Feeling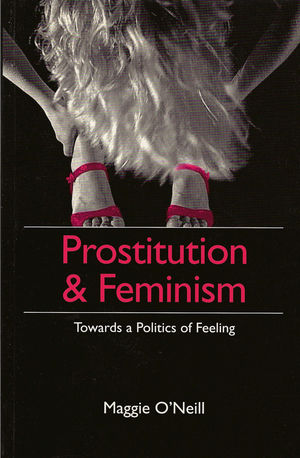 Prostitution and Feminism: Towards a Politics of Feeling
ISBN: 978-0-745-66810-9 June 2013 Polity 240 Pages
Download Product Flyer
Download Product Flyer
Download Product Flyer is to download PDF in new tab. This is a dummy description. Download Product Flyer is to download PDF in new tab. This is a dummy description. Download Product Flyer is to download PDF in new tab. This is a dummy description. Download Product Flyer is to download PDF in new tab. This is a dummy description.
Description
Feminists have long differed in their view of prostitution. While some regard it as a classic form of exploitation and degradation, others offer a more sympathetic interpretation of women's involvement in the sex industry. In this important new book, Maggie O'Neill seeks to explore the theoretical debates on prostitution and the relevance of these to the everyday lived experiences of women working on the streets.
Based upon her own ethnographic research - defined as ethno-mimesis - the author seeks to undermine and demystify stereotypical images of prostitutes. She explores the narratives offered by prostitutes themselves, as well as other forms of their representation in film, art and photography, and shows how these various mediums may be used to shed light on the socio-economic processes and structures which lead women into prostitution. These personal accounts produce what O'Neill refers to as 'a politics of feeling', which, she argues, may be used to transform attitudes, policy and practice in relation to female prostitution. By relating these individual experiences to critical feminist theory, the book deepens our understanding of the phenomenon of prostitution in contemporary society.

The book will be of particular interest to students and scholars in gender studies, feminist theory and sociology.
Table of contents
Acknowledgements.
Introduction: Socio-cultural Contexts-Renewed Methodologies for Social Research.
Part I Feminist Knowledge and Social Research: Understanding Prostitution.
1 Feminism(s) and Prostitution.
2 Feminist Knowledge and Social Research: Ethno-mimesis as Perfomative Praxis.
Part II Interpretive Ethnographies: Life History Work.
3 Women's Voices, Women's Lives.
4 Adolescent Prostitution: Runaways, Homelessness and Living in Local Authority Care.
III Feminist Postmodernisms and Ethnographies of Difference: between Modernity and Postmodernity.
5 Imagining Women: Prostitution, the Aestheticization of the Whore and the Social Organization of Desire.
6 The City, Masculinity and the Social Organization of Desire: Pimps and Punters.
7 Conclusion: Towards a Politics of Feeling.
Notes.
References.
Index.
Reviews
'
Prostitution and Feminism
is a great examples of feminist research, developing new theoretical concepts and methodological approaches for a feminism that can entwine critical conceptual explorations with an ethnographic approach that brings life to the broader analysis. A wide-ranging, readable and authoritative book.' –
Vikki Bell, Goldsmiths College, University of London
'By working across traditional disciplinary divides, O'Neill provides a stimulating and fresh approach to feminist work in the area of prostitution, at the same time making timely demands on the reader to think more deeply about the nature and purpose of feminist theory and research.' – Jenny Ryan, Manchester Metropolitan University
Features
This book provides an engaging and comprehensive introduction to feminist interpretations of prostitution.Based upon the author's own original ethnographic research, it seeks to challenge stereotypical representations of women working in the sex industry.The book makes an important contribution to current debates in sociology and women's studies.