Protein Kinase CK2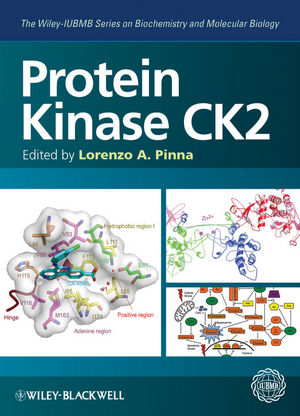 Protein Kinase CK2
ISBN: 978-1-118-48234-6 October 2012 Wiley-Blackwell 480 Pages
Description
Protein kinases play a critical role in cellular processes that impact overall organismal health and function. Of the kinases that collectively make up the Human Kinome, CK2 has garnered special attention because of its significant role in the generation of the human phosphoproteome. The role CK2 plays in the development of cancer and other disease has also made it of significant interest for its potential role in future therapeutics. Protein Kinase CK2 comprehensively brings together the varied work being done on this critical enzyme.
Protein Kinase CK2 is logically divided into three sections. The first section reviews key molecular and structural aspects of the enzyme. The second section looks at functional aspects of CK2 and the diverse roles it plays in cellular development, function, and health. The final section focuses on CK2 and cancer, looking at the impacts of the kinase on neoplastic development and its rapidly developing role as a therapeutic agent.
With contributions from the world's leading experts in the field, Protein Kinase CK2 will serve as an invaluable guide to the expanding and vibrant body of research being performed on this enzyme. This will be an essential volume for anyone working in the fields of biochemistry, protein science, signal transduction, metabolic regulation, and cancer biology and therapeutics.
Editor
Lorenzo A. Pinna is Professor in the Department of Biomedical Sciences at the University of Padua, Padua, Italy.
Also Published in the Wiley-IUBMB Series on Biochemistry and Molecular Biology:
Plant Phenolics and Human Health: Biochemistry, Nutrition, and Pharmacology
Edited by Cesar G. Fraga
ISBN: 978-0-470-28721-7
CONTRIBUTORS xi
PREFACE xv
PART 1 MOLECULAR AND STRUCTURAL ASPECTS 1
1 Structural Bases of Protein Kinase CK2 Function and Inhibition 3
Karsten Niefind and Roberto Battistutta
Introduction 3
Basic Structure/Function Relationships of CK2 8
CK2 Inhibitors 37
Conclusions and Outlook 60
Acknowledgments 61
2 The Interactome of Protein Kinase CK2 76
Mathias Montenarh and Claudia Götz
Introduction 76
From the Outside to the Inside: Interaction of CK2 with Membrane Proteins 78
Regulating Gene Expression: Interaction of CK2 with Components of Signaling Cascades, Transcription Factors and DNA
Modifying Enzymes 82
Mastering Nucleic Acid Functions: Interaction of CK2 with Proteins of the Replication, Transcription, and Translation Machinery of the Cell 87
Let It Roll: Interaction of CK2 with Cell Cycle Regulatory Proteins 90
Guardian Angels: Interaction of CK2 with Proteins That Maintain the Cellular Integrity 93
Live and Let Die: Interaction of CK2 with Proteins of the Apoptotic Pathway 96
Highways in the Cell: Interaction of CK2 with the Cytoskeleton and Motor Proteins 96
Collaborating with the Enemy: Interaction of CK2 with Proteins Implicated in Viral Infections 98
Last But Not Least: Miscellaneous 99
Concluding Remarks 101
3 CK2 Contribution to the Generation of the Human Phosphoproteome 117
Luca Cesaro and Mauro Salvi
Kinases Contribution to the Human Phosphoproteome 117
CK2 Substrate Specifi city 118
Subphosphoproteomes of Proteins with Specific Functions 122
Subphosphoproteomes of Cellular Compartments 123
Absolute Quantification of Yeast Phosphoproteome Reflects the Constitutive Activity of CK2 125
Conclusions 125
Acknowledgments 126
PART 2 FUNCTIONAL ASPECTS 129
4 CK2 in Embryonic Development 131
Laura Macias Alvarez, Jesus Revuelta-Cervantes, and Isabel Dominguez
CK2 in Yeast Biology 131
CK2 in Invertebrate Development 135
CK2 in Vertebrate Development 139
CK2 in Plant Development 148
CK2 in Animal Developmental Signaling Pathways 149
Discussion 155
Outlook 157
Acknowledgments 158
5 Protein Kinase CK2: At the Crossroads of Pathways Controlling Cell Proliferation and Survival 169
Michelle Gabriel and David W. Litchfield
General Introduction 169
Protein Kinase CK2 170
CK2 in Cancer 171
Involvement of CK2 in Signaling Pathways Controlling Proliferation and Death 172
Concluding Remarks 182
Acknowledgments 183
6 The Role of Protein Kinase CK2 in the p53 Response 190
David W. Meek
Protein Kinase CK2 190
The p53 Network 191
The Interaction Between p53 and CK2 192
Regulation of p53 by Phosphorylation of Ser392 193
Proposed Mechanism for Regulation of p53 Phosphorylation at Ser392 (the "CK2" Site) 194
Phosphorylation of p53 by CK2 in a Physiological Context? 196
A Broader Role for CK2 in Regulating the p53 Network? 197
7 The Pivotal Role of CK2 in the Kinome-Targeting Hsp90 Chaperone Machinery 205
Yoshihiko Miyata
Protein Kinase CK2 205
Hsp90: A Major Molecular Chaperone 206
Co-Chaperones That Regulate Hsp90 Function 208
Hsp90 and Signaling Protein Kinases 212
Phosphorylation and the Regulation of Hsp90 by CK2 217
Phosphorylation of Cdc37 by CK2 218
A Crucial Role of CK2-Dependent Phosphorylation in the Functional Regulation of Cdc37 220
Regulation of the Cdc37 Phosphorylation Cycle 220
Regulatory Phosphorylation of FKBP52 by CK2 223
Phosphorylation of p23 by CK2 224
Targeting the CK2-Cdc37-Hsp90 Trinity for Cancer Chemotherapy 224
Conclusion 227
8 CK2: A Global Regulator of Cell Survival 239
Barbara Guerra and Olaf-Georg Issinger
CK2 and Cell Survival: Strategies, Methods, and Techniques for Exploring Its Role 239
CK2 and Cellular Death 244
Role of CK2 in DNA Damage 246
Role of the Individual CK2 Subunits in Cell Survival 248
CK2 Status in Non-neoplastic Cells 250
CK2 Activity and Expression in Neoplasia 252
CK2 in Heterotransplanted Tumors in Nude Mice 252
CK2 Holoenzyme and Its Subunits 253
Tumor Hypoxia 255
Conclusion 257
9 Specific Features of Plant CK2 267
Marta Riera, Isabel Cristina Vélez-Bermúdez, Tommaso Legnaioli, and Montserrat Pagès
Introduction 267
CK2α Catalytic Subunits 268
CK2β Regulatory Subunits 274
CK2 Holoenzyme 276
Physiological Role of CK2 in Plants 279
PART 3 CK2 AND NEOPLASIA 291
10 The Oncogenic Potential of CK2 293
David C. Seldin and Esther Landesman-Bollag
Introduction 293
CK2 Overexpression in Human Cancer 294
CK2 Is Overexpressed in Animal Models of Cancer 297
CK2 Overexpression in Transgenic Mice Leads to Cancer 297
Possible Targets of CK2 in Cancer: Wnt, NF-κB, and PI3-Kinase Pathways 298
Conclusions 301
Acknowledgments 301
11 Addiction of Cancer Cells to CK2: Survival at All Costs or Achilles' Heel? 305
Maria Ruzzene
Many Substrates, One Major Role 305
A Lateral Player 308
"More Necessary" for Some Cells 310
To Survive at All Costs 310
A Novel Achilles' Heel of Cancer Cells 311
The Right Weapons 312
Acknowledgments 313
12 CK2 Suppression of Apoptosis and Its Implication in Cancer Biology and Therapy 319
Janeen H. Trembley, JingJiang Wu, Gretchen M. Unger, Betsy T. Kren, and Khalil Ahmed
Introduction 319
CK2 Dynamics in Cell Growth and Cell Death 320
CK2 and Hallmarks of Cancer 323
CK2 as Target of Cancer Therapy 329
Acknowledgments 333
13 Protein Kinase CK2 in Normal and Malignant Hematopoiesis 344
Francesco Piazza
Hematopoiesis and Blood Tumors: General Concepts 344
CK2 Role in Mouse Embryonic Development: Insights into CK2 Involvement in Blood Development 345
CK2-Directed Regulation of Hematopoiesis-Associated Molecules and Signal Transduction Pathways 346
Role of CK2 in Hematologic Malignancies 351
CK2 in Blood Tumors Arising from Lymphocytes 352
CK2 in Blood Tumors Arising from Myeloid Cells 353
Conclusions 355
14 Role of CK2 in the Control of Cell Plasticity in Breast Carcinoma Progression 363
Odile Filhol, Alexandre Deshiere, and Claude Cochet
Introduction 363
Dysregulation of CK2 in Mammary Tumorigenesis 364
CK2 as a Guardian of Epithelial Cell Integrity 364
Unbalanced Expression of CK2 Subunits Is Correlated with Hypoxia and EMT-Related Markers 366
CK2β Subunit Silencing Induces EMT-Like Morphological Changes 367
Gene Expression Profi ling 373
CK2β Silencing Triggers Snail1 Induction 373
Overexpression of SIX1 in CK2β-Depleted Cells 374
Conclusions 375
Acknowledgments 377
15 CK2 as a Logical Target in Cancer Therapy: Potential for Combining CK2 Inhibitors with Various Classes of Cancer Therapeutic Agents 383
Denis Drygin
Introduction 384
Suppression of Apoptosis 385
PI3K-Akt-mTOR Signaling 390
Promotion of Angiogenesis 393
Hsp90 Machinery 395
NF-κB Transcription 399
Wnt Signaling 402
Epithelial-Mesynchemal Transition 405
DNA Damage Repair 405
Other Pathways 409
Concluding Remarks 411
Acknowledgments 411
APPENDIX: CK2 AND ITS FALSE SISTERS: THE RECENT SOLUTION OF A VERY "COLD CASE" 440
INDEX 442
Color plate located between pages 204 and 205.