Protein-Lipid Interactions: From Membrane Domains to Cellular Networks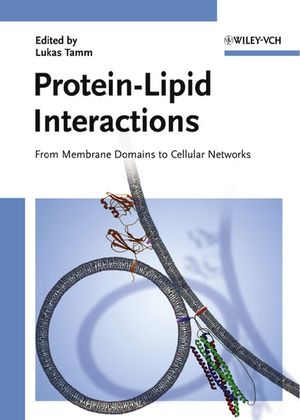 Protein-Lipid Interactions: From Membrane Domains to Cellular Networks
ISBN: 978-3-527-60699-3 May 2006 470 Pages
Description
In 17 contributions by leading research groups, this first comprehensive handbook in the field covers the interactions between proteins and lipids that make the fabric of biological membranes from every angle. It examines the relevant hermodynamic and structural issues from a basic science perspective, and goes on to discuss biochemical and cell biological processes. The book covers physical principles as well as mechanisms of membrane fusion and fission. Additionally, chapters on bilayer structure and protein-lipid interactions as well as on how proteins shape lipids and vice versa, membrane penetration by toxins, protein sorting, and allosteric regulation of signal transduction across membranes make this a valuable information source for researchers in academia and industry.

Preface.
List of Contributors.
PART I: HOW LIPIDS SHAPE PROTEINS.
1. Lipid Bilayers, Translocons, and the Shaping of Polypeptide Structure (S. White, et al.).
2. Folding and Stability of Monomeric beta-Barrel Membrane Proteins (J. Kleinschmidt).
3. A Paradigm of Membrane Protein Folding: Principles, Kinetics and Stability of Bacteriorhodopsin Folding (P. Booth).
4. Post-Integration Misassembly of Membrane Proteins and Disease (C. Sanders).

PART II: HOW PROTEINS SHAPE LIPIDS.
5. A Census of Ordered Lipids and Detergents in X-ray Crystal Structures of Integral Membrane Proteins (M. Wiener).
6. Lipid and Detergent Interactions with Membrane Proteins Derived from Solution Nuclear Magnetic Resonance (A. Arora).

PART III: MEMBRANE PENETRATION BY TOXINS.
7. Lipid Interactions of a-Helical Protein Toxins (G. Anderluh & J. Lakey).
8. Membrane Recognition and Pore Formation by Bacterial Pore-forming Toxins (A. Heuck & A. Johnson).
9. Mechanism of Membrane Permeation and Pore Formation by Antimicrobial Peptides (Y. Shai).

PART IV: MECHANISMS OF MEMBRANE FUSION.
10. Cell Fusion in Development and Disease (B. Podbilewicz & L. Chermomodik).
11. Molecular Mechanisms of Intracellular Membrane Fusion (O. Vites & R. Jahn).
12. Interplay of Proteins and Lipids in Virus Entry by Membrane Fusion (A. Lai, et al.).

PART V: CHOLESTEROL, LIPID RAFTS, AND PROTEIN SORTING.
13. Protein-Lipid Interactions in the Formation of Raft Microdomains in Biololgical Membranes (A. Kusumi, et al.).
14. Protein and Lipid Partitioning in Locally Heterogeneous Model Membranes (P. Schwille, et al.).

PART VI: TARGETING OF EXTRINSIC MEMBRANE PROTEIN MODULES TO MEMBRANES AND SIGNAL TRANSDUCTION.
15. In vitro and Cellular Membrane-binding Mechanisms of Membrane-targeting Domains (W. Cho & R. Stahelin).
16. Structure and Interactions of C2 Domains at Membrane Surfaces (D. Cafiso).
17. Structural Mechanisms of Allosteric Regulation by Membrane-binding Domains (B. Canagarajah, et al.).
Subject Index.
"…the demand for this volume by members of my laboratory was so great that I had to pry it out of several pairs of hands in order to write this review." (
The Quarterly Review of Biology
, September 2006)
"...for the advanced student, researcher, or teacher of life sciences, it can be highly recommended." (ChemBioChem)
"Considered as a whole, this is an excellent collection of highly topical articles in the field of lipid-protein interactions. Every article contains a comprehensive and up-to-date list of references, giving the reader access to a wealth of primary literature. An especially valuable resource is the compilation of current data relating to the individual topics that have been extracted from protein data banks; these also provide a good basis for planning further work. The keyword index enables the reader to find relevant discussions in the various articles. The book is a worthwhile addition to the private collections of all those who are concerned with lipid-protein interactions." (Angewandte Chemie)