Protein Sequencing and Identification Using Tandem Mass Spectrometry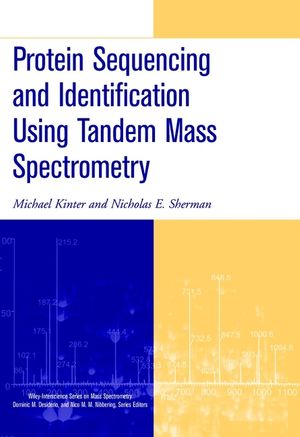 Protein Sequencing and Identification Using Tandem Mass Spectrometry
ISBN: 978-0-471-32249-8
Oct 2000
320 pages
Description
How to design, execute, and interpret experiments for protein sequencing using mass spectrometry
The rapid expansion of searchable protein and DNA databases in recent years has triggered an explosive growth in the application of mass spectrometry to protein sequencing. This timely and authoritative book provides professionals and scientists in biotechnology research with complete coverage of procedures for analyzing protein sequences by mass spectrometry, including step-by-step guidelines for sample preparation, analysis, and data interpretation.
Michael Kinter and Nicholas Sherman present their own high-quality, laboratory-tested protocols for the analysis of a wide variety of samples, demonstrating how to carry out specific experiments and obtain fast, reliable results with a 99% success rate. Readers will get sufficient experimental detail to apply in their own laboratories, learn about the proper selection and operation of instruments, and gain essential insight into the fundamental principles of mass spectrometry and protein sequencing. Coverage includes:
Peptide fragmentation and interpretation of product ion spectra
Basic polyacrylamide gel electrophoresis
Preparation of protein digests for sequencing experiments
Mass spectrometric analysis using capillary liquid chromatography
Techniques for protein identification by database searches
Characterization of modified peptides using tandem mass spectrometry
And much more
An Introduction to Protein Sequencing Using Tandem Mass Spectrometry.

The Primary Structure of Proteins and a Historical Overview of Protein Sequencing.

Fundamental Mass Spectrometry.

Collisionally Induced Dissociation of Protonated Peptide Ions and the Interpretation of Product Ion Spectra.

Basic Polyacrylamide Gel Electrophoresis.

The Preparation of Protein Digests for Mass Spectrometric Sequencing Experiments.

Mass Spectrometric Analysis of Tryptic Digests.

Protein Identification by Database Searching.

Sequence Analysis of Novel Proteins.

The Characterization of Post-Translationally Modified Proteins Using Tandem Mass Spectrometry.

Index.
"[the authors] present their own laboratory-tested protocols for the analysis of a wide variety of samples, providing sufficient detail for duplication of their methods..." (SciTech Book News Vol. 25, No. 2 June 2001)

"...an informative, well-written and well-illustrated book with a large number of useful references.... It should prove invaluable to anyone working in the field of protein sequencing." (Spectroscopyeurope.com)