Proteins: Structure and Function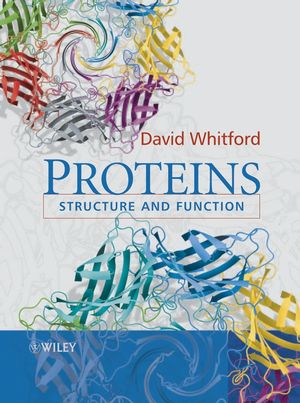 Proteins: Structure and Function
ISBN: 978-1-118-68572-3 April 2013 520 Pages
Description
Proteins: Structure and Function is a comprehensive introduction to the study of proteins and their importance to modern biochemistry. Each chapter addresses the structure and function of proteins with a definitive theme designed to enhance student understanding. Opening with a brief historical overview of the subject the book moves on to discuss the 'building blocks' of proteins and their respective chemical and physical properties. Later chapters explore experimental and computational methods of comparing proteins, methods of protein purification and protein folding and stability.

The latest developments in the field are included and key concepts introduced in a user-friendly way to ensure that students are able to grasp the essentials before moving on to more advanced study and analysis of proteins.

An invaluable resource for students of Biochemistry, Molecular Biology, Medicine and Chemistry providing a modern approach to the subject of Proteins.
Preface.
1. An introduction to protein structure and function.
2. Amino acids: the building blocks of proteins.
3. The three-dimensional structure of proteins.
4. The structure and function of fibrous proteins.
5. The structure and function of membrane proteins.
6. The diversity of proteins.
7. Enzyme kinetics, structure, function and catalysis.
8. Protein synthesis, processing and turnover.
9. Protein expression, purification and characterization.
10. Physical methods of determining the three-dimensional structure of proteins.
11. Protein folding in vivo and in vitro.
12. Protein structure and a molecular approach to medicine.
Epilogue.
Glossary.
Appendices.
Bibliography.
References.
Index.
"…an invaluable resource…students of biochemistry, chemistry, genetics, structural biology, as well as medical and dental students will greatly benefit from reading this text…" (
Annals of Biomedical Engineering
, December 2005)
"…a worthwhile investment for the beginning student or for the advanced scientist seeking a better grasp of protein chemistry…" (Clinical Chemistry, November 2005)
"An outstanding resource for introductory protein chemistry courses and a solid reference for those interested in proteins." (CHOICE, November 2005)
" … the distillation of years of lecturing and undergraduate feedback." (Journal of Biological Education, Spring 2006: Vol.40; 2)
An accessible introduction to the principles of protein structure and function.
Beautifully illustrated throughout in full colour.
Includes end of chapter problems, references to further reading, relevant case studies throughout and a glossary of terms at the end.
Associated website including web-based tutorials, problems and additional content.