Proteomic and Genomic Analysis of Cardiovascular Disease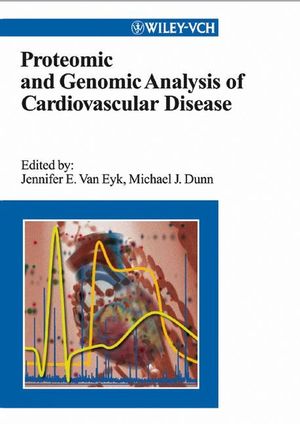 Proteomic and Genomic Analysis of Cardiovascular Disease
ISBN: 978-3-527-60545-3
Mar 2006, Wiley-Blackwell
423 pages
Description
This is the very first book to focus on this new approach that will eventually aid in developing new diagnostic markers and therapies for controlling and treating heart disease - the number-one killer in the industrialized world.
Divided into two parts, the book describes not only the potentials, but also the limitations of these technologies. The editors, both well known within the scientific community, provide new insights into the biochemical and cellular mechanisms of cardiovascular disease, as well as covering the transition into clinical applications. In so doing, they highlight the various strategies and technical aspects so as to assist the growing number of researchers intending to utilize these approaches. The result is an excellent way of educating and informing graduate students, post-doctoral fellows as well as researchers in academia and industry about the latest developments in this area.
Preface.
List of Contributors.
Section1: GENOMICS.
Large Scale Expression Profiling in Cardiovascular Disease Using Microarrays: Prospects and Pitfalls (M. Schinke, et al.).
Global Genomic Analyses of Cardiovascular Disease: A Potential Map or Blind Alley? (M. Krenz, et al.). 
Heart Failure: A Genomics Approach (C. Liew).
Principles of cDNA Microarrays as Applied in Heart Failure Research (S. Arab, et al.).
Gene Profiling in the Heart by Subtractive Hybridization (C. Depre).
DNA Mircoarray Gene Profiling: A Tool for the Elucidation of Cardioprotective Genes (E. Murphy, et al.).
Pitfalls Associated with cDNA Microarrays - A Cautionary Tale (A. Aplin & C. Murry).
Application of Biologic Skepticism to Analysis of Expression Phenotypes (L. Adams, et al.).
Genes Involved in Atherosclerosis and Plaque Formation (T. Tuomisto & S. Yl䭈erttuala).
Section 2: PROTEOMICS.
Gene Expression Profiling in Pulmonary and Systemic Vascular Cells Exposed to Biomec hanical Stimuli (S. Ma, et al.).
Proteomics, a Step Beyond Genomics: Applications to Cardiovascular Disease (E. McGregor & M. Dunn).
Mass Spectrometry - A Powerful Analytical Tool (H. Byers & M. Ward).
Differential Expression Proteomic Analysis Using Isotope Coded Affinity Tags (M. Wright & R. Aebersold).

Protein Chip T echnology in Proteomics Analysis (R. Jenkins & S. Pennington).
Recent Applications of Functional Proteomics: Investigations in Smooth Muscle Cell Physiology (J. MacDonald & T. Haystead).
Identification of Targets of Phosphorylation in Heart Mitochondria (R. Gottlieb & H. He).
Proteomic Characterization of Protein Kinase C Signaling Tasks in the Heart (T. Vondriska, et al.).
Identification of Secreted Oxidative Stress-induced Factors (SOXF) and Associated Proteins: Proteomics in Vascular Biology (Z. Jin, et al.).
Myofilament Proteomics: Understanding Contractile Dysfunction in Cardiorespiratory Disease (J. Simpson, et al.).
Section 3: FUTURE PERSPECTIVES.
Genomics Perspective for Drug Discovery (A. Marian & M. Gollob).
Proteomics: A Post-Genomic Platform for Drug Discovery and Development (S. Rapundalo).
Subject Index.
"This is a delightful book with something to offer both novice and experts in the field." (
Modern Pathology
, October 2004)
"In summary, this book provides a strong foundation in genomic and proteomic methodology and will bring the reader to the forefront in the use of these tools in cardiovascular disease research." (Clinical Chemistry, 50, No. 7, 2004)
"...provides a timely integration of the emerging technologies of genomics, proteomics and drug discovery...suitable for all levels..." (Briefings in Functional Genomics and Proteomics, Vol 2(4), Feb 2004)
"This is a very good book, whose best virtue is that it reliably reflects the current status of genomics and proteomics in the cardiovascular area. The inclusion of both fields in the same book could be considered excessively ambitious, but the result is very positive.... Overall, this is a highly recommended book, written by specialists in their fields, offering a clear and concise overview of the basis for, and latest developments in, cardiovascular genomics and proteomics." (Human Genomics, January 2004)