Proteomics Today: Protein Assessment and Biomarkers Using Mass Spectrometry, 2D Electrophoresis,and Microarray Technology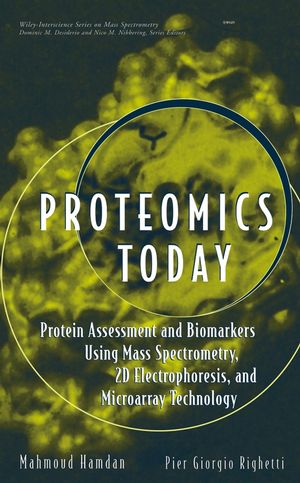 Proteomics Today: Protein Assessment and Biomarkers Using Mass Spectrometry, 2D Electrophoresis,and Microarray Technology
ISBN: 978-0-471-64817-8 February 2005 448 Pages
Description
The last few years have seen an unprecedented drive toward the application of proteomics to resolving challenging biomedical and biochemical tasks. Separation techniques combined with modern mass spectrometry are playing a central role in this drive. This book discusses the increasingly important role of mass spectrometry in proteomic research, and emphasizes recent advances in the existing technology and describes the advantages and pitfalls as well.
* Provides a scientifically valid method for analyzing the approximatey 500,000 proteins that are encoded in the human genome
* Explains the hows and whys of using mass spectrometry in proteomic analysis
* Brings together the latest approaches combining separation techniques and mass spectrometry and their application in proteome analysis
* Comments on future challenges and how they may be addressed
* Includes sections on troubleshooting
Cannot be combined with any other offers.
Original Price:$300.00
Purchased together:$225.00
save $75.00
Cannot be combined with any other offers.
Original Price:$359.00
Purchased together:$269.25
save $89.75
Cannot be combined with any other offers.
Original Price:$315.00
Purchased together:$236.25
save $78.75
Table of contents
PREFACE TO PART I.
ACKNOWLEDGMENT.
I: INTRODUCTION TO PART I.
1. INSTRUMENTATION AND DEVELOPMENTS.
1.1 Introduction.
1.2 Ionization Techniques for Macromolecules.
1.3 Examples on Analytical Solutions Based on FAB–MS.
1.4 Electrospray Ionization.
1.5 Matrix-Assisted Laser Desorption Ionization.
1.6 Ion Detection.
1.7 Types of Analyzers.
1.8 Hybrid Analyzers.
1.9 Tandem Mass Spectrometry.
1.10 Current MS Instrumentation in Proteome Analyses.
1.11 Current MS-Based Proteomics.
1.12 Recent Achievements and Future Challenges.
1.13 Concluding Remarks.
References.
2. PROTEOMICS IN CANCER RESEARCH.
2.1 Introduction.
2.2 Pancreatic Ductal Adenocarcinoma.
2.3 Proteomic Analysis of Human Breast Carcinoma.
2.4 Proteomic Profiling of Chemoresistant Cancer Cells.
2.5 Signal Pathway Profiling of Prostate Cancer.
2.6 Emerging Role of Functional and Activity-Based Proteomics in Disease Understanding.
2.7 Activity-Based Protein Profiling.
2.8 Probing Protein Functions Using Chromophore-Assisted Laser Inactivation.
2.9 Role of Protein–Tyrosine Kinases.
2.10 Concluding Remarks and Future Prospects.
References.
3. CURRENT STRATEGIES FOR PROTEIN QUANTIFICATION.
3.1 Introduction.
3.2 Global Internal Standard Technology.
3.3 Differential In-Gel Electrophoresis.
3.4 Quantification of Modified Proteins.
3.5 Comments and Considerations.
3.6 Other Approaches.
3.7 Emerging Role of Microfluidic Devices.
3.8 Concluding Remarks.
References.
II: PROTEOMICS TODAY: SEPARATION SCIENCE AT WORK.
4. CONVENTIONAL ISOELECTRIC FOCUSING IN GEL MATRICES AND CAPILLARIES AND IMMOBILIZED pH GRADIENTS.
4.1 Introduction.
4.2 Conventional Isoelectric Focusing in Amphoteric Buffers.
4.3 Immobilized pH Gradients.
4.4 Capillary Isoelectric Focusing.
4.5 Separation of Peptides and Proteins by CZE in Isoelectric Buffers.
4.6 Conclusions.
References.
5. SODIUM DODECYL SULFATE–POLYACRYLAMIDE GEL ELECTROPHORESIS.
5.1 Introduction.
5.2 SDS–Protein Complexes: a Refinement of the Model.
5.3 Theoretical Background of Mr Measurement by SDS–PAGE.
5.4 Methodology.
5.5 Gel Casting and Buffer Systems.
5.6 Blotting Procedures.
5.7 Conclusions.
References.
6. TWO-DIMENSIONAL MAPS.
6.1 Introduction.
6.2 Some Basic Methodology Pertaining to 2D PAGE.
6.3 Prefractionation Tools in Proteome Analysis.
6.4 Multidimensional Chromatography Coupled to MS.
6.5 Protein Chips and Microarrays.
6.6 Nondenaturing Protein Maps.
6.7 Spot Matching in 2D Gels via Commercial Software.
6.8 Conclusions.
References.
INDEX.
Reviews
"I highly recommend this book for anyone planning to get involved in proteomics technology or for one who is already involved…it provides an entertaining insight on the field..." (
Microbe
, March 2006)
"...a must reference for anyone interested in proteomics. For me, if Proteomics Today is not in my backpack it will be within arms reach as a great reference to have on hand as I plan future experiments." (Journal of the American Society for Mass Spectrometry, January 2006)
"…the book is highly recommended to all scientists interested in protein separation science, and well-thumbed copies will certainly be present in every self-respecting proteomic laboratory." (Proteomics, July 2005)
'This book is well written and thus easy to read.  It contains valuable information and extensive references for readers from a variety of backgrounds.' (Analytical and Bioanalytical Chemistry, 12 January 2007)
"…well-written and thus easy to read. It contains valuable information and extensive references for readers from a variety of backgrounds." (Analytical and Bioanalytical Chemistry, January 2007)