Protestants: A History from Wittenberg to Pennsylvania 1517 - 1740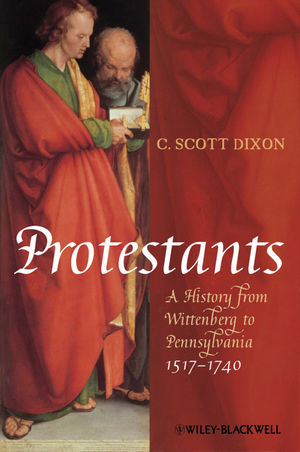 Protestants: A History from Wittenberg to Pennsylvania 1517 - 1740
ISBN: 978-1-405-15084-2 October 2010 Wiley-Blackwell 280 Pages
Description
Protestants: A History from Wittenberg to Pennsylvania, 1517-1740
presents a comprehensive thematic history of the rise and influence of the branches of Christianity that emerged out of the Protestant Reformation.
Represents the only English language single-volume survey of the rise of early modern Protestantism from its Lutheran beginnings in Germany to its spread to America
Offers a thematic approach to Protestantism by tracing its development within the social, political, and cultural context of early modern Europe
Introduces innovative argument that the central dynamic of Protestantism was not its struggle with Catholicism but its own inner dynamic
Breaks from traditional scholarship by arguing that the rise of Reformation Protestantism lasted at least two centuries
Unites Old World and New World Protestant histories
Cannot be combined with any other offers.
Original Price:$272.90
Purchased together:$204.67
save $68.23
Table of contents
Acknowledgments.
Introduction: Law and Gospel.
1. Foundations.
Wittenberg and Rome.
Swiss Protestants.
Reformations.
Geneva and Europe.
2. Kingdoms.
Kings, Priests, and Prophets.
Civic Protestantism.
The Politics of Faith.
3. Communities.
Biblical Utopias.
The Pursuit of Purity.
New World Protestants.
4. Dominions.
Bonds of Communion.
Christian Subjects.
Protestant Environments.
The Missionary Turn.
5. Revivals.
Signs of the Times.
True Christianity.
The End of Reformation.
Epilogue: Modern Protestants.
Endnotes.
Index.
Reviews
"In this thoughtful and highly original book, Scott Dixon takes a thematic approach to the process of building the new Christian communities … Scott Dixon has done an admirable job, given the constraints of space and the breadth of his coverage, in painting a broad-ranging and sophisticated picture of a complex and expansive movement."  (EHR Oxford Journal Clippings, 6 June 2012)
"Dixon's contribution lies, rather, in his fascinating and highly original thesis that the formative phase of Protestantism, as a creative social force, must be viewed as extending to the revivalist impulses of the 18th-century Great Awakening in the New World...Dixon's writing here is detailed, solid, and compelling. Summing Up: Highly recommended." (Choice, 1 May 2011)
"This is a remarkable work, for its striking originality, its powerful and independent-minded synthesis, its sensitivity to the primary and secondary material, its deployment of really gripping examples and case studies, and its conjoining of the European and North American Protestant experience…."—Mark Greengrass, University of Sheffield
Features
Represents the only English language single-volume survey of the rise of early modern Protestantism from its Lutheran beginnings in Germany to its spread to America
Offers a thematic approach to Protestantism by tracing its development within the social, political, and cultural context of early modern Europe
Introduces innovative argument that the central dynamic of Protestantism was not its struggle with Catholicism but its own inner dynamic
Breaks from traditional scholarship by arguing that the rise of Reformation Protestantism lasted at least two centuries
Unites Old World and New World Protestant histories