Protocols for High-Risk Pregnancies: An Evidence-Based Approach, 5th Edition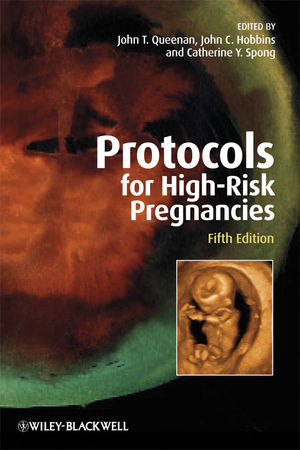 Protocols for High-Risk Pregnancies: An Evidence-Based Approach, 5th Edition
ISBN: 978-1-444-39035-3
Dec 2010
680 pages
Description
Experience and evidence fused for best-practice management of high-risk pregnancies
High-risk pregnancies present life-threatening challenges to two of your patients: the mother and her fetus. The direct, exemplary guidance in Protocols for High-Risk Pregnancy enables you to:
better understand your patients' conditions
devise optimum management strategies
maximize the outcome and minimize the complications for both the mother and her fetus
To enhance clinical relevance, each protocol is written as if the patient were present. Evidence to support an intervention is given where it exists. The authors' experience provides additional wise counsel. Key references provide the springboard for a deeper understanding of a topic.  All protocols have been updated. New protocols follow the successful formula of previous editions.
Watch an interview with Dr John T. Queenan and Dr Catherine Y. Spong here: http://www.youtube.com/watch?v=pdgqNUOtnk4
Contributors.
Preface.
Part 1 Hazards to Pregnancy.
1 Developmental Toxicology and Teratology (James W. Hanson).
2 Tobacco, Alcohol and the Environment (Jorge E. Tolosa and George Saade).
3 Ionizing Radiation (Robert L. Brent).
4 Exercise during Pregnancy: Risks and Benefits (James F. Clapp).
Part 2 Antenatal Testing.
5 Routine and Prenatal Screening (Lawrence D. Platt).
6 Sonographic Screening for Fetal Anomalies (John Hobbins).
7 Sonographic Detection of Aneuploidy (Fergal D. Malone).
8 Fetal Echocardiography (Joshua A. Copel and Charles S. Kleinman).
9 Clinical Use of Doppler (Henry L. Galan).
10 Antepartum Testing (Michael P. Nageotte).
11 Indices of Maturity (Anna Locatelli).
Part 3 Special Procedures.
12 Invasive Fetal Testing: Chorionic Villus Sampling and Amniocentesis (Katharine D. Wenstrom).
13 Third Trimester Amniocentesis (Nancy Chescheir).
14 Fetal Blood Sampling and Transfusion (Alessandro Ghidini).
15 Fetal Reduction (Mark I. Evans).
16 External Cephalic Version: Singleton Fetus (Gary D.V. Hankins).
17 Induction of Labor (Deborah A. Wing).
Part 4 Maternal Disease.
18 Maternal Anemia (Alessandro Ghidini).
19 Sickle Cell Disease and other Hemoglobinopathies (John C. Morrison and Marc R. Parrish).
20 Isoimmune Thrombocytopenia (Sreedhar Gaddipati and Richard L. Berkowitz).
21 Autoimmune Disease (Charles J. Lockwood).
22 Acquired and Inherited Thrombophilias (Charles Lockwood and Erika Werner).
23 Cardiac Disease (Katharine D. Wenstrom).
24 Peripartum Cardiomyopathy (F. Gary Cunningham).
25 Thromboembolism (Alan Peaceman).
26 Renal Disease (Susan Ramin).
27 Obesity (Patrick Catalano).
28 Diabetes Mellitus (Mark B. Landon and Steven G. Gabbe).
29 Hyperthyroidism and Hypothyroidism in Pregnancy (Brian M. Casey).
30 Acute and Chronic Hepatitis (Patrick Duff).
31 Asthma (Michael Schatz).
32 Epilepsy (Neil K. Kochenour).
33 Chronic Hypertension (Baha M. Sibai).
34 Immunizations (Stanley A. Gall).
35 Cytomegalovirus, Genital Herpes, Rubella, Syphilis and Toxoplasmosis (George D. Wendel).
36 Influenza, West Nile Virus, Varicella-Zoster and Tuberculosis (Jeanne S. Sheffield).
37 Malaria in Pregnancy (Richard M.K. Adanu).
38 Human Immunodeficiency Virus Infection in Pregnancy (Howard Minkoff).
39 Parvovirus B19 Infection (Maureen P. Malee).
40 Group B Streptococcus (Mara J. Dinsmoor).
41 Urinary Tract Infections (F. Gary Cunningham).
42 Acute Abdominal Pain Due to Non-obstetric Causes (Fred M. Howard).
43 Gallbladder, Fatty Liver and Pancreatic Disease (Jeffrey R. Johnson).
44 Mastitis (Wendy F. Hansen).
Part 5 Obstetric Problems.
45 First Trimester Vaginal Bleeding (Marsha Wheeler).
46 Cervical Insufficiency (John Owen).
47 Nausea and Vomiting (Gayle Olson).
48 Missed Abortion and Antepartum Fetal Death (Robert M. Silver).
49 Abnormal Amniotic Fluid Volume (Thomas R. Moore).
50 Preeclampsia (Baha M. Sibai).
51 Fetal Growth Restriction (Ray Bahado Singh).
52 Rh and Other Blood Group Alloimmunizations (Kenneth J. Moise Jr).
53 Preterm Labor (Vincenzo Berghella).
54 Premature Rupture of the Membranes (Brian Mercer).
55 Prevention of Cerebral Palsy (Dwight Rouse).
56 Cooling for Hypoxic Ischemic Encephalopathy (Rosemary D. Higgins).
57 Amnionitis (George A. Macones and Sindhu K. Srinivas).
58 Third Trimester Bleeding (Yinka Oyelese).
59 Amniotic Fluid Embolus (Robert Resnik).
Part 6 Labor and Delivery.
60 Maternal Transport (Jean Rex and Jerome Yankowitz).
61 Intrapartum Fetal Heart Rate Monitoring (Roger K. Freeman).
62 Abnormal Labor (Alan Peaceman).
63 Breech Delivery (Martin L. Gimovsky).
64 Vaginal Birth After Cesarean (James R. Scott).
65 Placenta Accreta (Robert M. Silver).
66 Shoulder Dystocia (Robert Gherman).
67 Twins, Triplets and Beyond (Mary E. D'Alton and Karin M. Fuchs).
68 Postpartum Hemorrhage (Gary S. Eglinton).
69 Vaginal and Vulvar Hematoma (Robert Resnik).
Part 7 Clinical Reference Tables.
Appendix A Commonly Used Ultrasound Measurements (Antonio F. Barbera).
Appendix B Laboratory Values in Normal Pregnancy (F. Gary Cunningham).
Appendix C Evaluation of Fetal Defects and Maternal Disease (Lynn L. Simpson).
Appendix D The Newborn: Reference charts and tables (Adam Rosenberg).
Appendix E Medications (Catalin S. Buhimschi and Carl P. Weiner).
Index.
""This is an update of an excellent reference. The evidence-based algorithms are essential for clinical practice in medicine today."" (Doody's, 30 September 2011)